Please note:
you do
not
need to set up an Email Sending Domain in your HubSpot account if you are using a HubSpot
Dedicated IP for email
. This feature is only used for HubSpot accounts using a Shared IP.
Why is this important?
The ability to remove the "via yourdomain.com" from emails allows customers to have more attribution over their emails. This helps reduce confusion for the end recipient who should focus on the company sending email, not the client they are sending it through.
Email sending domains are used for DKIM (Domain Keys Identified Mail) email authentication which is a form of email authentication used to verify a sender's identity. By setting up your email sending domain with your nameserver host, you allow HubSpot to encrypt your message and "sign" it using your domain's unique signature. This adds a layer of security behind-the-scenes that enables providers like Gmail to remove the "via hubspot" message for their users.
Instructions
So let's go through the steps on how to set up your email sending domain in HubSpot. The steps below will go over how to add your email sending domain in the HubSpot Domain Manager, then how to add a TXT record with your nameserver host. (This process does not involve any edits to MX records, as HubSpot does not host your email servers.)
Please note that you will need access to edit your DNS records with your name server host. If you do not have access to edit your site's DNS, you can forward this article to your administrator.
Furthermore, please be aware that if you also have access to HubSpot CRM, applying this feature within the Marketing platform will carry over to the CRM.
Note:
If you need to set up your email sending domain with 1&1 hosting service, contact their support and ask for the "Transfer Department." They should be able to set up the TXT record on your behalf.
Content > Content Settings
From your HubSpot Dashboard, navigate to Content > Content Settings.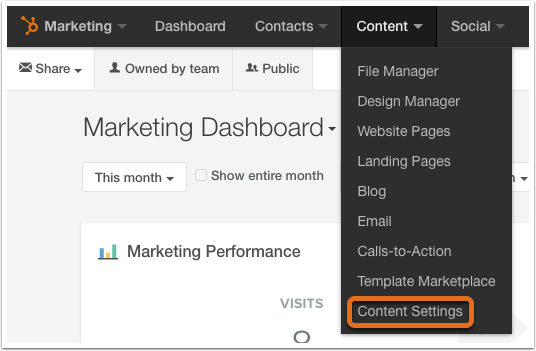 Domain Manager
Once in Content Settings, on the left-hand side you'll see a grey box titled "Content Optimization System Tools." Within this area, click on the link for Domain Manager.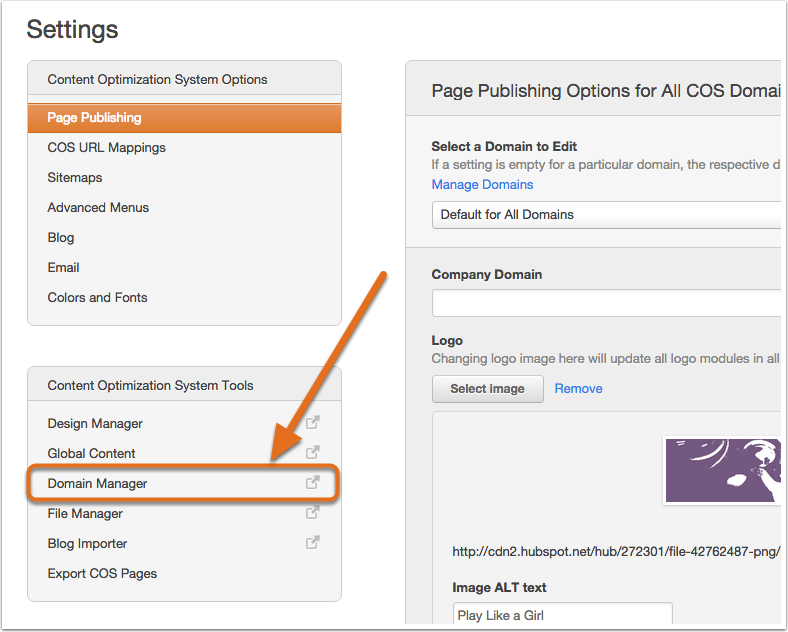 Email Sending Domains
Once in Domain Manager, navigate to the bottom of the page to see the Email Sending Domains section. Click on the blue button within this section to Connect Another Email Sending Domain.

Domain to connect
From the pop-up window, you'll want to type in the domain that is used in your From address. For example, if your email From address is noreply@mywebsite.com, type in mywebsite.com.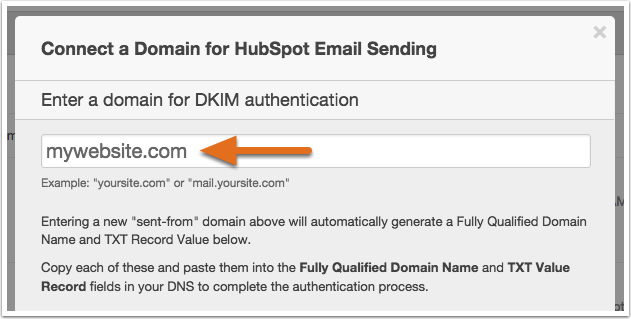 TXT record value
After typing in your domain, your host name will automatically be filled, so then you'll want to copy the TXT record value that appears below so that you can paste it into the relevant area within your DNS records. Then click Add Domain.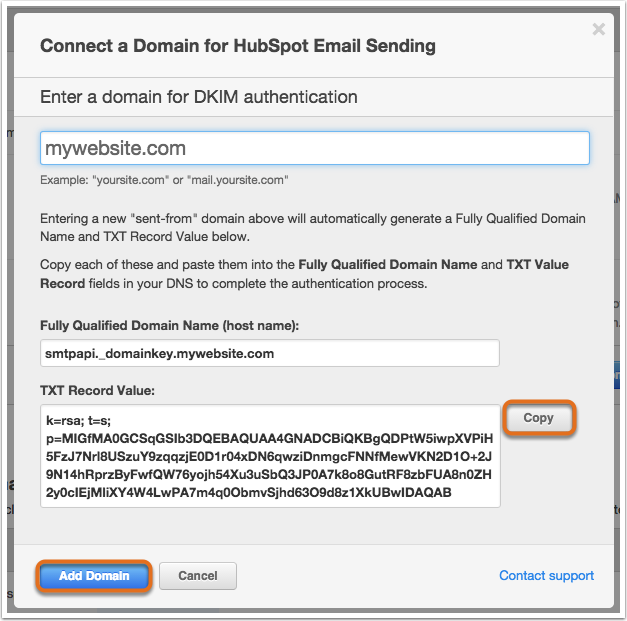 TXT record in your DNS
Each Domain Registrar is going to be a little different so this step is going to be a little vague on purpose. Once you're logged into your Domain Registrar, you'll want to navigate to your DNS Zone File area. From there, scroll until you see a TXT (Text) section or simply add a new TXT record. You'll want to type in smtpapi._domainkey.mywebsite.com for the Host (from "Fully Qualified Domain" as seen above), and then paste the TXT record into the TXT Value. Take a look below to get an idea of what this looks like in a Domain Registrar.
Please be aware that it may take up to 72 hours for the domain to validate; TTL times vary depending on which domain registrar you use.

What if I use a From address not configured in Email Sending Domains?
Never fear! We'll still authenticate your email using DKIM, but we'll use our own public key instead. Your mail will still be delivered it just won't be signed with your domain's signature.
Basically, setting up an Email Sending Domain isn't necessary but still has its advantages, as outlined at the beginning of this article.
How can I verify my Email Sending Domain?
If you would like to verify that the TXT (Text) record has been connected successfully, you can use the public query tool available at http://www.digwebinterface.com/ to do just that. For further details please click here.