Use the social media publishing tool when you want to:
Promote your blog content or landing page offers on social media.

Increase traffic to your website, and reap the SEO benefits of being active on social media.

Publish a message to all of your social media channels at once to save time.

Organize your social media publishing schedule, so you can you can make sure your brand has a consistent voice.

Track the effectiveness of each of your social media messages.
To learn how to craft perfect posts for various social media sites, check out this post from HubSpot's blog.
Instructions
Follow these steps to learn how to use the social media publishing tool to promote your website content.
1. Go to the social media Publishing tool
Navigate to Social > Publishing.
This is the social media Publishing dashboard. This is where you will see all of your social media messages that your published through your HubSpot account.
2. Click on "Compose a message" to post or schedule a new message
To begin creating a new message, click on the Compose a message button.
3. Select the accounts that you want to publish a message to
Using the tabs on the top left of the screen, select the different accounts that you want to publish your new message to. You can publish messages to Facebook, Twitter, LinkedIn, or Xing using the tool. If you haven't yet connected your accounts to HubSpot, click here for instructions.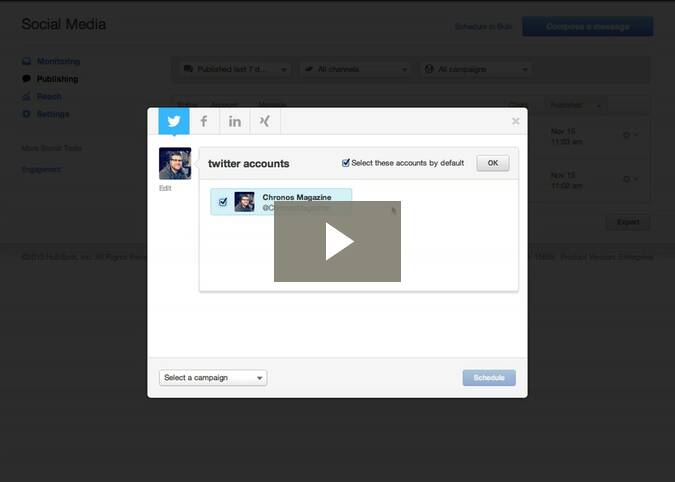 4. Attach a blog post, landing page, or image to your message
After you've selected the accounts that you're going to publish a message to, choose the content that you're going to promote. You can use the Attach drop-down menu to quickly select a blog post, landing page, or image to attach to your message. The Attach menu will automatically search through all of the blog posts, landing pages, and images you have on the HubSpot COS or CMS.
If you want to share some content that isn't hosted on HubSpot, you can type in a link to the content directly into the message box. Tip: make sure your link starts with "http://"
Below is a short video that shows you how to attach a landing page to a social media message. Any content that you attach to one social media account will automatically have its link carry over to the other accounts. You can then set unique messages for each account, while still promoting the same linked content.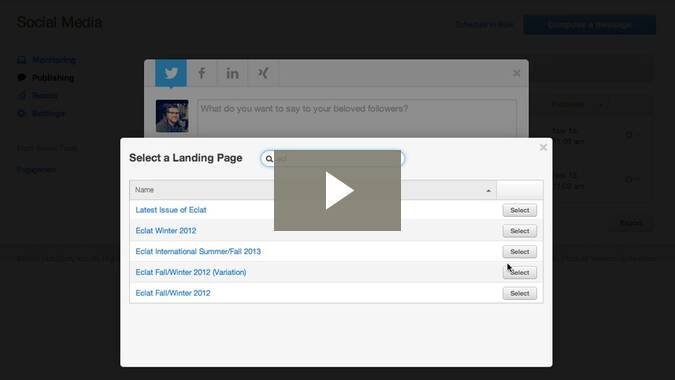 5. Write your messages
Consider your audience's interests -

Write posts that resonate with the things your audience cares most about.

Have a non-lead generation goal for every post -

Don't write every message with your own desire to make a sale in mind. Aim for the relationship first.

Consider including an image

- The click-through rate (CTR) of posts containing photos is 128% higher than the CTR of posts containing videos or links. You might also be interested to know that

photos on Facebook generate 53% more Likes

than the average post. Consider posting an image with your message. Keep in mind that attaching an image to a Twitter post takes up approximately 11 of your characters. The various social media sites will automatically scale your image to meet their specifications, but it is best to choose a decently size image so that it does not distort if enlarged by the social media site.
6. Choose the times you are going to publish the message
The message composer will automatically select a publish date based on your social media publishing schedule, but you can change the date by clicking on the date field. Below you'll see a short video that demonstrates how you can change the time a message will be published and even add in additional re-publishing times.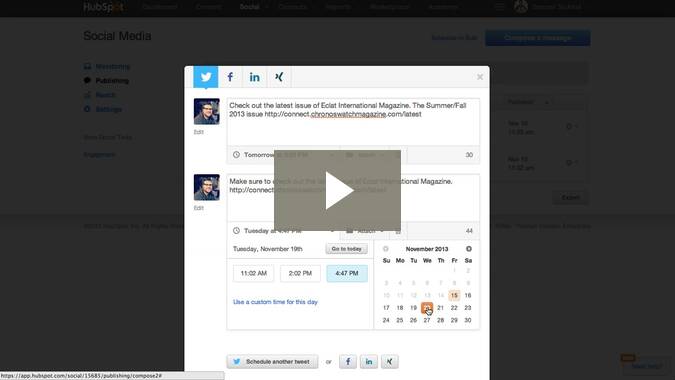 7. Choose a campaign
After you've written your message, included a link to your content, and picked some times to post it, the last step is to choose a HubSpot campaign to associate the messages with. The Select Campaign button is located at the bottom left of the compose screen.
8. Schedule the message
Since your message is now ready to go, click the Schedule button to schedule it for publishing.
9. View scheduled messages
To view the messages that you have scheduled, click on Scheduled in the left menu bar.
Now you can see all of your scheduled messages and when they are scheduled to be published. From here, you can delete messages, edit them, and filter by scheduling status, social media network, and campaign.
Next Article: How to use the Social Reports tool