If you have Account access permissions, you can download a spreadsheet of content-related actions that users have taken in the account.
What's included in the export
Content activity history exports will include any creation, update, or deletion of the following content assets:
Website pages

Landing pages

Blog posts

Marketing emails

Email, blog, or web page templates and modules

Files

Calls-to-action

URL redirects

HubDB
For each action, the export will show:
the date and time of the action

the type of object that was created, updated, or deleted

the type of event, such as PUBLISHED or DELETED
the name of the asset, such as the file name or page name
the ID of the object
the user who committed the action
the ID of the user
the updated or deleted HubDB rows
Export content activity history
To export your account's content activity history:
In your HubSpot account, click the

settings icon

settings

in the main navigation bar.

In the left sidebar menu, navigate to

Account Defaults

.

In the Security

section, next to

Export Content Activity History, click

Export.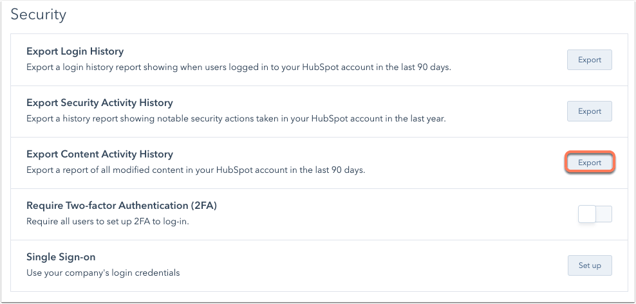 When the export finishes processing, you'll receive a notification in you

r notification center. In the main navigation bar, click th

e

notification

notification icon to view the notification.

In the notification panel, click the notification to download the export.