After connecting your LinkedIn Ads account to HubSpot, your existing LinkedIn Lead Gen Forms will automatically appear on your HubSpot ads dashboard.
Lead syncing requirements
To sync leads from LinkedIn Lead Gen Forms, the user who connects the LinkedIn Ads account must be a Page Admin

and

Lead Gen Forms Manager for the associated LinkedIn Business Page. To view the permissions of each user who has access to the page in your LinkedIn Ads account:

Navigate to the Campaign Manager.
Select the business page associated with your LinkedIn Ads account.
In the upper right, click the Admin tools dropdown menu and select Page admins.
Manage lead syncing for your LinkedIn Ads accounts
In your HubSpot account, click the settings icon

settings

in the main navigation bar.
In the left sidebar menu, navigate to Marketing > Ads.
Click the Lead syncing tab.
In the upper right, click Manage.
In the dialog box, select LinkedIn.
Select/clear the checkbox next to a

LinkedIn Ads account

to turn lead syncing on/off.
Click Save.
Once lead syncing is enabled for a LinkedIn Ads account, all existing leads who have submitted Lead Gen Forms in the last 90 days will be synced to HubSpot. A new contact will be created for each lead, unless a contact already exists with the same email address. Leads that match up with existing contacts will be deduplicated by email address and the contact record will be updated with their Lead Gen Form submission.
Leads are synced on a per-account basis for LinkedIn, so all leads associated with your connected LinkedIn Ads account will sync to HubSpot once this setting is turned on. Learn more about field mapping between LinkedIn Lead Gen Forms and HubSpot.


Troubleshoot lead syncing
If you're unable to enable your LinkedIn Ads account for lead syncing, it may be a permissions issue. Ensure that you have the required page-level permissions.

If you've enabled your LinkedIn Ads account but leads aren't syncing as expected, try the troubleshooting steps below.
Check your report filters
Depending on which attribution report you've selected in the ads dashboard, some synced leads may not display.

For example, the First form submission attribution report will only show the contacts who were created as a result of filling out a lead form. If a contact existed in your account before converting on a lead form, they would not display with First form submission selected.


If some leads appear to be missing, navigate to your contacts and search for them by email address. Synced leads will have an ad event and lead ad form submission event on their contact record timeline, which you can use for list and workflow segmentation.

Marketing Hub Professional and Enterprise customers can use the All form submissions attribution report to see all leads that have synced from their lead ads.


Ensure your Lead Gen Form has an email address field
In order for HubSpot to create new contacts from LinkedIn Lead Gen Forms, form submissions must include an email address. To ensure that email addresses are syncing from LinkedIn to HubSpot, use the default Email address field on your LinkedIn Lead Gen Forms.
To check whether your Lead Gen Form has the Email address field:
Log in to your LinkedIn Ads account.
At the top of the page, click Account Assets, then select Lead Gen Forms.


Select a Lead Gen Form.
On the left, click to expand the Lead details & custom questions section.
If your form has the Email address field, it will display under Profile information.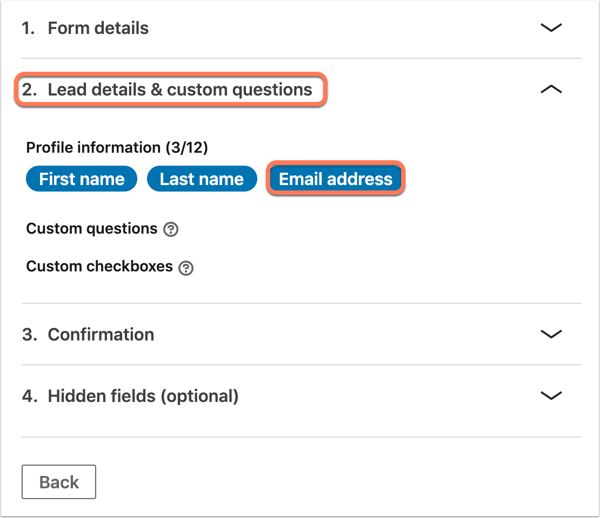 Existing Lead Gen Forms can't be edited, so if your form does not have the
Email address
field, you will need to create a new form. Alternatively, you can
allow form submissions without email address to create contacts
.
Check for invalid email addresses
If a contact submits a Lead Gen Form with an invalid email address, HubSpot will not create a new contact. This is a common explanation for when most leads are syncing but a small amount aren't. You can check if an email address is valid by using an email validation tool such as Verifalia.

When you're working with HubSpot Support to troubleshoot lead syncing, please export a CSV file of leads from your Lead Gen Form. This CSV will help to better diagnose the root cause of the issue.