In your form's options, you can set which email addresses will receive notifications when a visitor submits the form. Recipients set at the form-level will be the default for the form wherever that form is used.
To specify the default email addresses to which you'd like your form submission notifications to be sent:
Navigate to your forms:

In your HubSpot Marketing Basic, Professional, or Enterprise account, navigate to Contacts > Forms.
In your HubSpot CRM or Marketing Starter account, navigate to Lead Capture > Forms.

Click the name of your form.
Click the Options tab.
Enter the email address(es) you'd like to receive notifications in the Send submission notifications to field. You can also select teams here.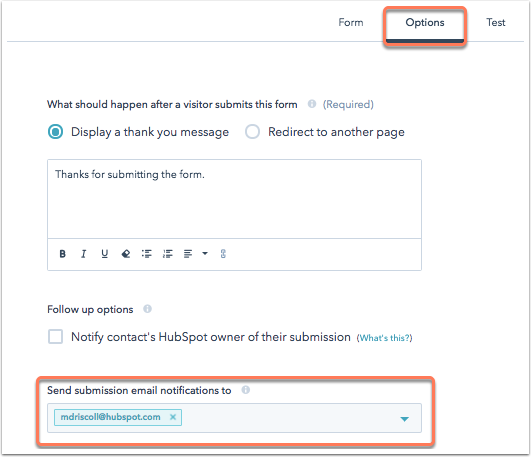 If you have a Marketing Basic, Professional, or Enterprise account and your form appears on multiple HubSpot pages, you can override the form defaults and set a specific email address(es) to receive the form submission notifications for a particular page.
Please note: if you choose to override the form defaults, the default recipient(s) set at the form-level will not receive notifications for submissions on this page unless you add them to the page-specific list of recipients.
Navigate to Content > Landing Pages.
Hover over the landing page and click Edit.
Locate and click the form module in the page editor to edit the form's options.
Scroll down to Form Submission Notifications and check the Send form notifications to specified email addresses instead of the form defaults box.
Add your email address(es) to the field below.
Please note that if a contact has already submitted a form, the default email addresses will be notified of a Contact reconversion. This ensures your team can differentiate between new leads and returning customers.
If you've set up your form submission notification addresses, but are not receiving notifications, check out this article for troubleshooting steps.