Follow these steps to go live on the HubSpot COS with a iPage registered domain that has its nameserver set to iPage. If you moved your nameserver to another host after registering the domain with iPage, you'd instead need to make the changes on the other host.
In HubSpot
Navigate to Content > Content Settings
Click on the Domain Manager link in the Content Optimization System Tools side menu.
Click Connect Another HubSpot COS Domain button at the bottom of the HubSpot COS Domains table.
Add your new domain and configure how it will connect to your HubSpot content. If this is the first domain you'll be connecting to your HubSpot account, you'll probably want to make it the primary domain for all tools. To do that, just click on the button next to the make primary for the following tool(s) option and then check the box next to Blog Posts, Email, Landing Pages, and Site Pages.
You will want to connect www.mydomain.com and not mydomain.com because HubSpot's COS is able to load pages and files at high-speed and protect your site against malicious attacks (like DDOS) attacks, but the technology that enables this will only work with what are known as CNAME records. Root domains, a domain without WWW, cannot connect with CNAME records, but WWW domains can. So you will need to connect the WWW version of your domain to HubSpot in order for this to work. The non WWW version will be redirected to the WWW version, so that visitors will always be able to get to your website.
Click Connect Domain.
Copy down the CNAME record provided, ex: 123456.webhost77.hubspot.net
In iPage:
Log into iPage.com, which is located in the top right hand corner.
On the right hand side, click on Edit Domains.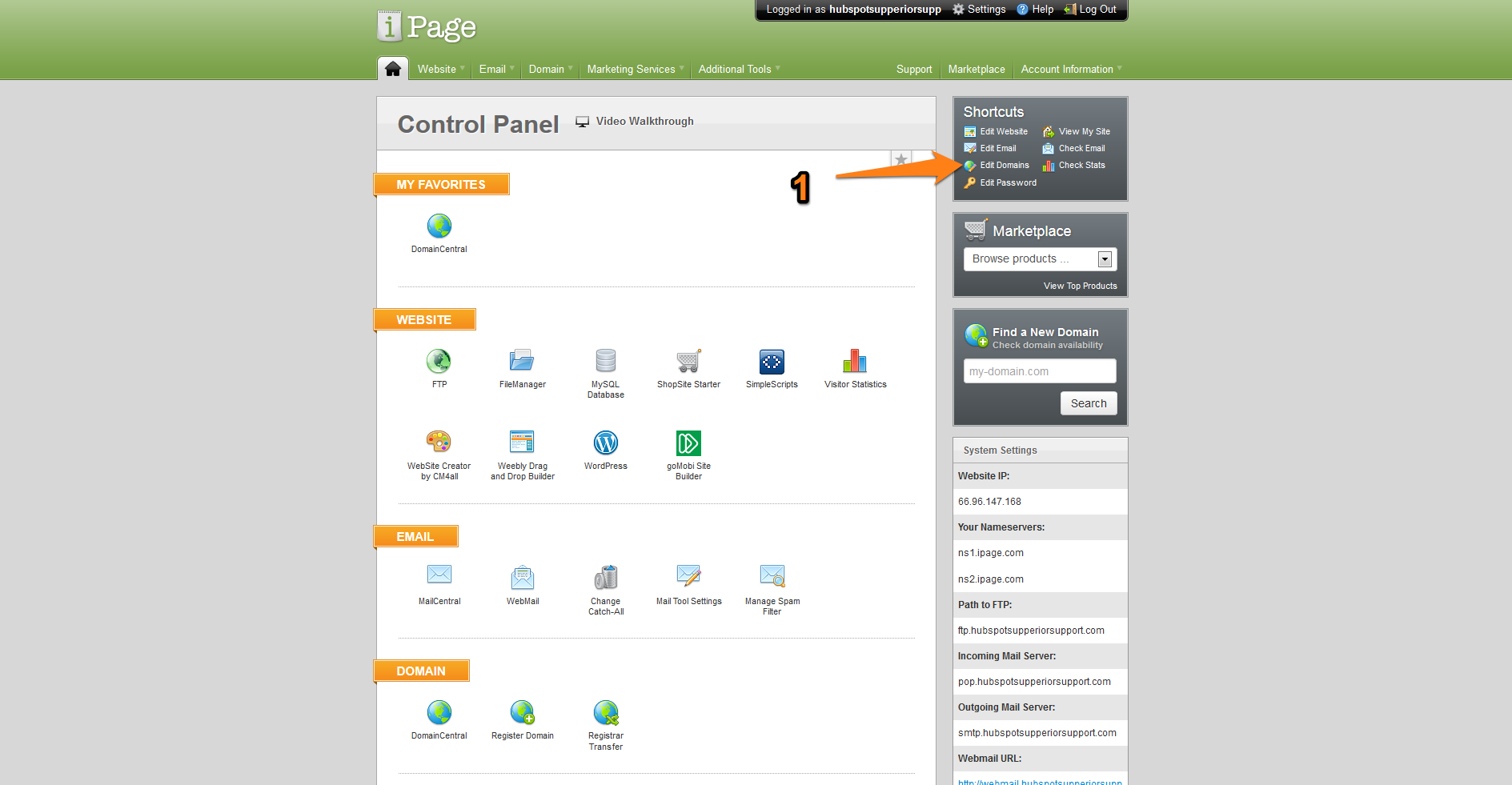 Select the domain you are editing and then select the tab, DNS.
Photograph the Original DNS records set-up within the account.
Locate and delete the WWW if it's an A(@) record.
Either add in the CNAME record in the Modify drop down or edit the WWW CNAME record by pointing to HubSpot's CNAME record.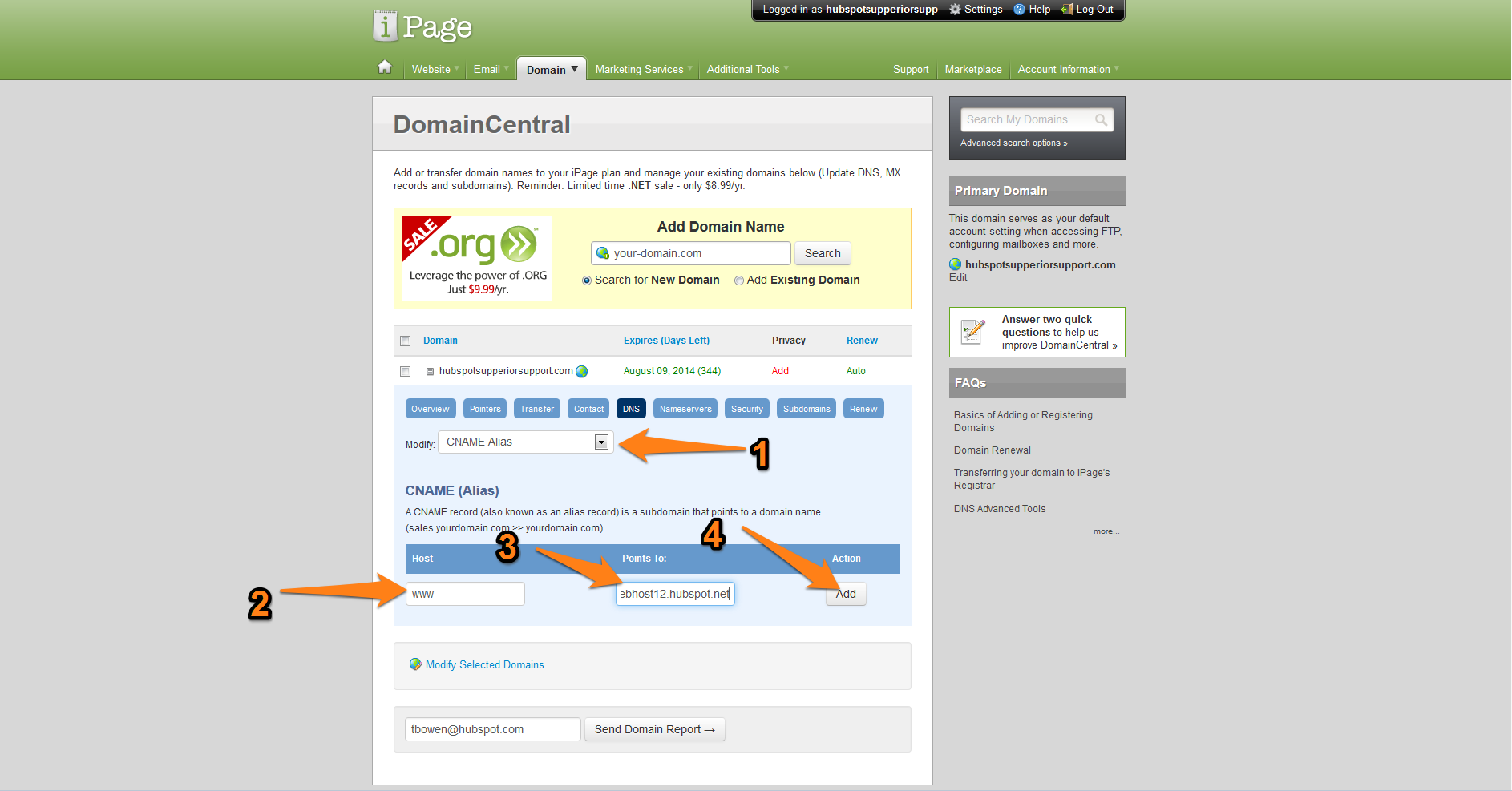 To Redirect: Click on your username in the top right.

Click on the File Manager Option under the Website section.
Locate the .htaccess file under Manage Files and Directories.

If not there check settings and make sure System Files is checked off.
If still not there call Support at: 18774724399 and ask them to create an .htaccess file in order for you to write a 301 redirect.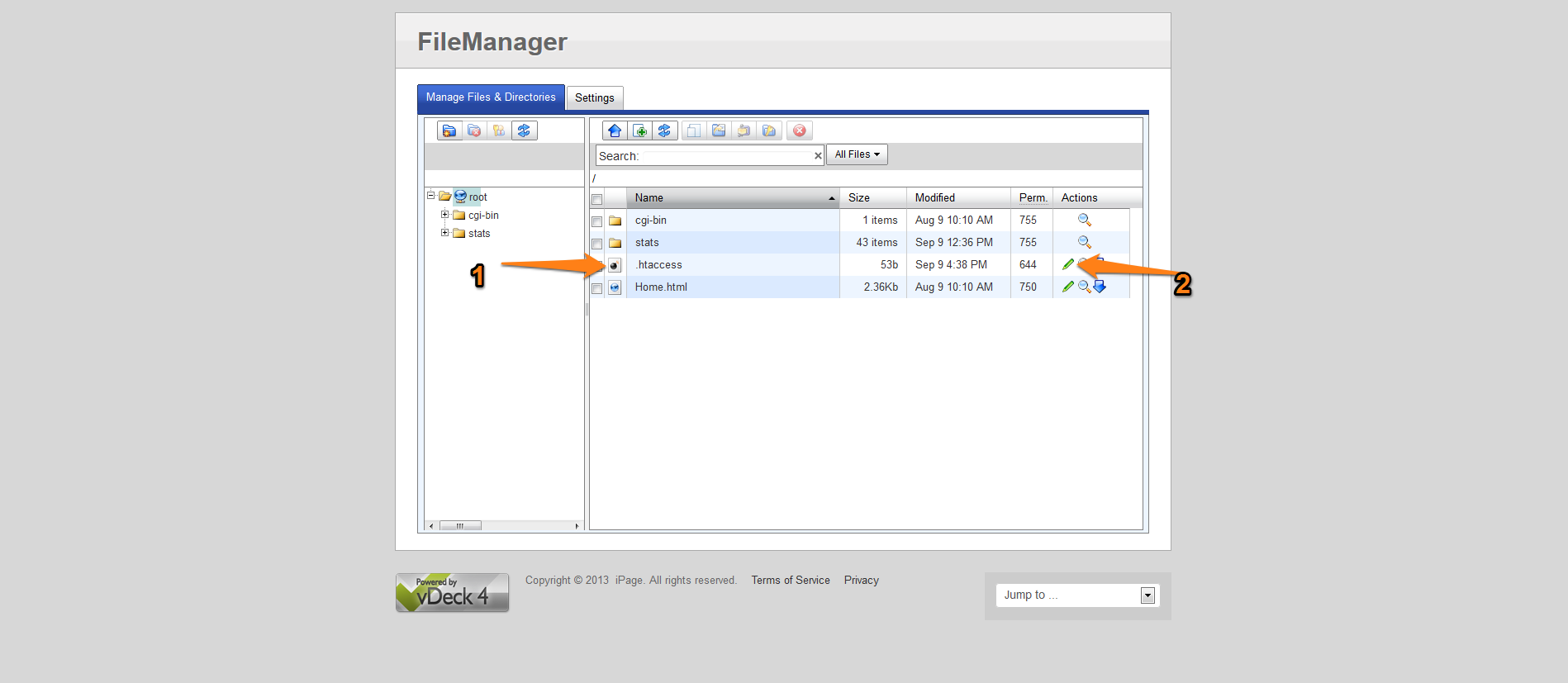 Once the file is created, click on the green pencil to the left of the file to edit.
Type: Redirect 301 / http://www.YOURESITEHERE.com. Click save.
Wait for it to connect - Domain Hosts can take up to 48 hours to propagate DNS changes around the globe.