As you are creating page templates and setting up your site's navigation, you will be prompted to assign menus to your pages. With your template's menu modules, you can assign the following types of menus:
Static
Dynamic by section
Dynamic by page
Breadcrumb
Please find below a brief overview explaining the difference between our Dynamic by section and Dynamic by page menu types.

Dynamic by section will show the menu options contained in the same parent page of your content site map.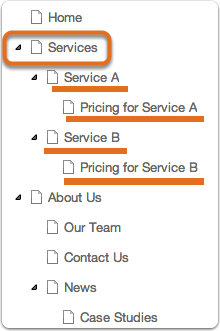 Dynamic by page will only show menu items that are the children of that particular page as long as it is the parent. In other words, when we go to render the menu we look at the current page and get its parent page as the menu root. Using the same example above, if you're presently on the Service A page and the template of such is assigned the Dynamic by page menu type, only its child page Pricing for Service A will be listed when you hover over the menu, and not the rest of the pages under Services as long as Service A is the parent menu root.