If you have Super Admin access in your account, you can access your HubSpot API key in your integrations settings. You can give your HubSpot API key to your developers so they can create APIs that interact with information in your HubSpot account.
Because of the access your HubSpot API key grants, you should consider rotating your HubSpot API key regularly for security reasons. Rotating your HubSpot API key requires you to deactivate the existing API key and generate a new one.
While this may create downtime and require effort, it helps add a layer of security by preventing malicious integrations from accessing your HubSpot information with your existing API key.
In your HubSpot account, click your account name in the top right corner, then click Integrations.
In the left sidebar menu, navigate to Integrations > API key.
If a key has never been generated for your account, click Generate API key

.

If you've already generated an API key, click Show key to display your key.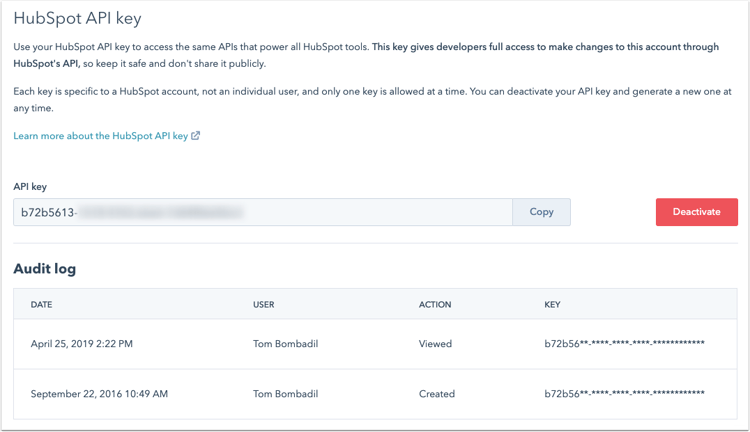 With the key displayed, click Copy to copy the key. You can then paste the key to provide it to your developers, or use it in your integrations.
To rotate your HubSpot API key:

Click Deactivate to deactivate the key. Any API calls using this deactivated HubSpot API key will now fail and any application using this key will no longer be able to access your information.
Click Generate API key to generate a new HubSpot API key.
Click Copy and replace the deactivated API key used by your integrations with this new API key to give them access to your information.

The Audit log section shows a log of users that have viewed, created, or deactivated an API key.