With the lead flows tool, you can easily create engaging lead capture forms to attract new leads. Lead flows are available for any website page, landing page, or blog post hosted on HubSpot. To add lead flows to a non-HubSpot page, you need to install the HubSpot tracking code on your external site, or install the HubSpot Wordpress plugin on your Wordpress site.
In your HubSpot account, navigate to Marketing > Lead Capture > Lead Flows.

Click

Create lead flow.
Type
On the Type tab, select the type of lead flow to create:
Pop-up box: this option grabs the most attention. It's ideal for promoting social channels, growing your email list, and providing the most valuable content you have.
Dropdown banner: this option can be used to promote a timely offer (e.g., a sale or a webinar) or to grow your blog subscribers.

Slide-in box left or Slide-in box right: these options can be used to promote your content or grow your blog subscribers.
Once you've selected the lead flow type, click the pencil icon edit next to the title at the top of the screen to customize the name of your lead flow. Then, click Next.
Callout
On the Callout tab, add and customize a callout to grab your visitor's attention.
Featured image: a

n optional field that allows you to select a featured image to display on both the callout and form step.

Callout text: the main header when the lead flow appears on your webpage.
Callout body: an optional field that allows you to add additional information for your visitors.
Callout button text:

the text that will appear on your lead flow button.

Theme color: set the theme color for your lead flow. You can click on one of the default color bubbles

provided. You can select a custom color by clicking on the

color bubble

next to the hex value and selecting a color from the gradient or typing in a custom hex value.
Any customization you set in the left sidebar will appear in the preview on the right, so you have an idea of what your lead flow will look like once it's live.
When you're done customizing your callout, click Next.
Form
On the
Form
tab, customize what your visitors see when they click on your lead flow button.
Form body: add body text to elaborate on the value you're providing with your lead flow. The body text will also be included in the callout step of your lead flow.
Included fields: add additional fields to the form by clicking

+ Add another form field. Lead flows support the following field types: Single-line text, Multi-line text, Dropdown fields, Single checkbox fields, Number fields, and Date picker fields. To customize the way this form field appears to visitors, click the pencil icon to edit the field label, add placeholder text, or enter a default value. For the

Email

field, you can specify email addresses and domains to block.
Form button text: update the text that appears on your form button if you would like to make any changes. The text you added for the form button in the callout tab will carry over into this field automatically.
Notice and consent / legitimate interest (GDPR): if you have GDPR-enabled in your account, you can set the notice and consent option for this lead flow. Click the pencil icon

edit

to customize the default text.
Language: set the form language. You can change the language of the non-editable parts of the pop-up form, including the form field labels. It's currently possible to translate these parts of the form to French, Spanish, Japanese, German, and Brazilian Portuguese.
When you're done customizing your form, click Next.
Thank you
On the Thank you tab, create a thank you message for your visitors to see after submitting to your lead flow. Use the rich text editor to link your visitor to additional resources or downloads and include some lightly formatted text.
You can also add a button here to redirect your visitors elsewhere. Examples would be another web page, a file download and a meeting booking link. To add a button, select the Add a button checkbox, then customize the Button text. The button supports the following actions:
Redirect to a non-HubSpot URL: visitors will be redirected to an external webpage. Enter the URL of your external page in the Non-HubSpot URL text field.
Redirect to a HubSpot page or blog post: visitors will be redirected to one of your HubSpot pages or blog posts. Use the Choose a HubSpot page or blog post dropdown menu to select one of your published HubSpot pages or blog post.
Download a file: visitors will be redirected to a new file. Click Browse files to select a file from your file manager in the pane on the right. To upload a new file, click Add file and choose a file from Google Drive, Dropbox, or upload a new file.
Schedule a meeting: visitors can schedule a meeting with someone on your team using one of your meetings links. Use the Meeting Link dropdown menu to select one of your existing meetings links.
Add a calendar event: enter your event date, time, and details so that

visitors can add a new calendar event to their Google Calendar or Outlook.
When you're done, click Next.
Follow up
On the Follow up tab, create a follow-up email that your visitor will receive after submitting your form by clicking Create follow-up email.
Please note: CRM Free users are required to complete an email setup wizard to enable double opt-in for lead flows.
Customize the details of your follow-up email:
Sender: specify the sender of your lead flow follow-up email in the Sender

dropdown menu, which pulls a list of users in your account.
Subject: add a subject to the email.
Email body: add email body text to continue engaging with your contact.
Email footer: click Edit email footer to customize your company's name and address in your settings.
When you've finished setting up your follow-up email, click Next.
Options
On the Options tab, customize the following:
Lead flow location - set targeting rules to control which pages your lead flows will appear on.

Use the

Website URL

option to set criteria based on a URL. You can select

is all pages from the dropdown menu to show the lead flow on all pages; or select is, begins with, or contains and enter a website URL.
Use the

Query parameter

option to pair a parameter and its corresponding value. For example,

utm_campaign="spring_promotion"

would show the lead flow on any URLs with the campaign parameter

spring promotion.
Use the

Add an exclusion rule

if there are pages where you do not want your visitors to see your lead flow, such as a privacy policy page.

Flow triggers - select the user action that will trigger the lead flow to appear:

Page scroll will trigger the flow when your visitor scrolls 50% down your page.
Elapsed time simply triggers the flow after X seconds have past (a minimum of seven seconds is required).
Exit intent triggers the lead flow when the visitor's mouse exits the browser window. Please note that the

Exit

intent

option is only available with a

Pop-up box lead flow type.

Small screen sizes - you can disable your lead flow on mobile devices by selecting the

Disable lead flow on small screen sizes checkbox. Lead flows are mobile optimized but, in light of some

Google changes in January 2017, HubSpot recommends disabling lead flows for mobile.
Show dismissed lead flow - click the dropdown menu to set the amount of time that should pass before a visitor can see the lead flow again.
Add contacts to Salesforce campaign - if you're using the Salesforce integration in HubSpot, you can associate any contact who submits this lead flow with a Salesforce Campaign.
Add contacts to GoToWebinar - if you are using the GoToWebinar integration, click the dropdown menu to register any contact who submits your lead flow for a specific webinar.
Email notifications - customize which users receive notifications for your lead flow submissions by entering their email addresses in this field.
Send opt-in email - manage the double opt-in settings for your lead flows.
Push new contacts to your email provider (optional) - click

Manage in settings

to set up an email provider to push contacts to. To manage your email service provider settings outside of this creation flow, navigate to Settings

under your account dropdown menu in the upper right-hand corner of your HubSpot account. In the left sidebar menu, select

Marketing

> Email service provider.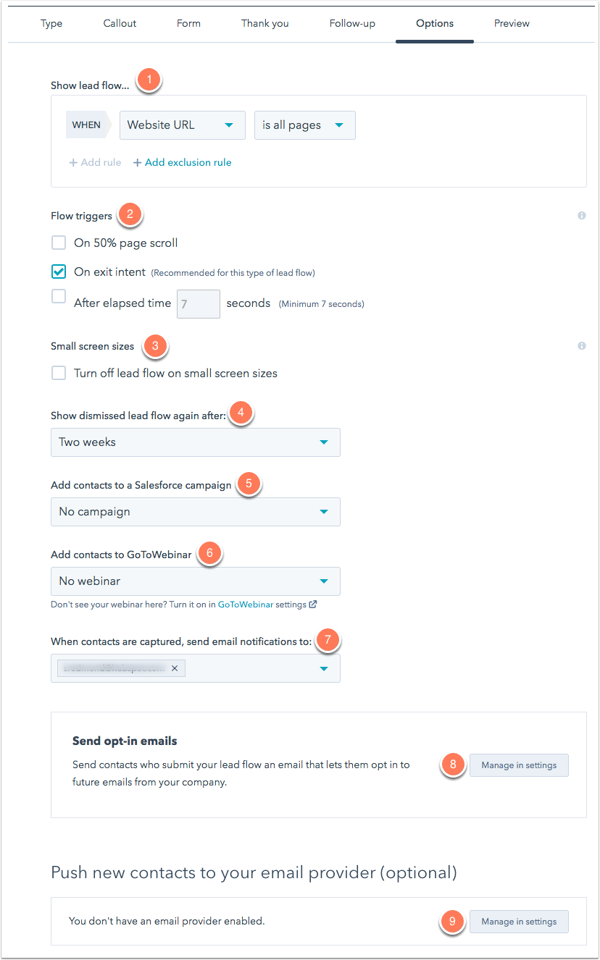 Click
Next
to move on to the final step.
Preview
In the Preview tab, the lead flows editor provides an interactive preview where you can test each stage of your lead flow and see it in action. To see how your lead flow will appear on different devices, click the Desktop, Tablet, or Mobile buttons to view an interactive preview.
When you're done previewing your lead flow, click the Publish button in the upper right to take your lead flow live. To save your changes but leave them unpublished, click the Save button instead.