Within your HubSpot Partner account, you can create a profile with your company's information to share publicly on HubSpot's Partner Directory. Here, you can share information about your business and make it easy for HubSpot customers to find you.

In your HubSpot

account, navigate to Partner >

Directory Info in the main navigation

.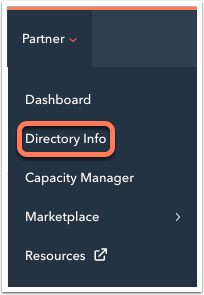 Business information
Click the Business information tab. Here,

you can add the following company details:
Company Name (required)
Website (required)
Location
Country
State
Description (required)
Logo (the best dimension size is 340px X 227px.)
When you're done, scroll down to the Publish your profile to the HubSpot Partner Directory setting. Toggle the switch ON to publish your profile publicly to the Partner Directory.
Click Save at the bottom left.
Directory preferences
Next, click the Directory preferences tab. Here, you can customize the following preferences by clicking them individually:
SEO tools: Add a meta description to improve the discoverability of your listing in the Partner Directory.
Your services: Select the service(s) that your company offers so customers can find a match for what they're looking for.
Industry: Select the industry or industries that your company specializes in.
Languages: Select the languages your company serves customers in.
Budget: Select a budget range for your company's services.
Region: Select the region(s) your company serves customers in.
HubSpot Awards: Select the HubSpot Impact Awards your company has won.
Click Save at the bottom left.
If you have more questions about setting up your profile on the Partner Directory, review these frequently asked questions to find your answer.