Compare current data with data in a previous period or against the goals you've set.
Please note: you can only compare data in a report using a line or area chart style with the date property as a report measure.
Navigate to your HubSpot dashboards by clicking the sprocket icon

sprocket

in the top left corner of your account.
Hover over the report and click the Actions dropdown, then select Edit.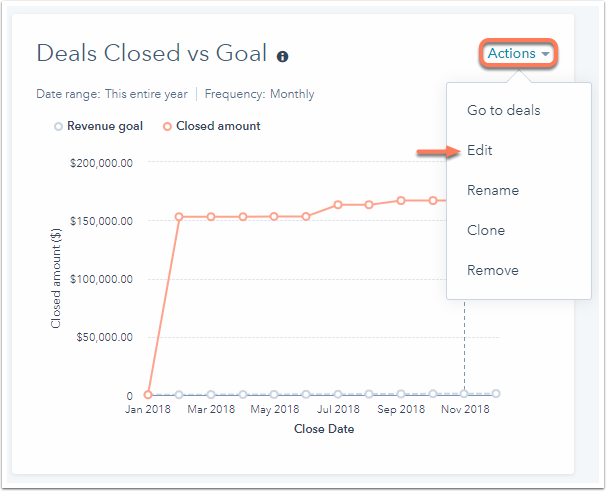 In the Visualization tab, click the Display options dropdown menu in the upper right. You can compare the current data set with a goal and a previous period.

Select Include monthly report goal and enter the monthly goal in the Goal field. This compares current data with a static number goal for each month and is specific to the report.
Select Include [measurement] goal to compare current data with the existing goals you've set with the same measurement. The option name depends on the data you're measuring in the report. For example, measuring Amount will show a Include

revenue

goal option and measuring Count of deals will show a Include

deals created

goal option.
Click the Comparison dropdown menu and select the time period you'd like to compare the current data to. The options displayed here depends on the time period you've set in the Data tab.
In the top right, click Save to take these changes live to your report.