The HubSpot Intelligence object in Salesforce allows you to view HubSpot information about your leads and contacts. You can also create custom views in the object, which is a powerful way to see your engaged leads and contacts and view their HubSpot activity right from Salesforce.
Log in to your Salesforce account.
Click HubSpot Intelligence in the main navigation bar. If this tab does not appear in your main navigation, you can access the object by clicking the plus icon (+) in the navigation bar, then selecting HubSpot Intelligence (note: you can also add the tab to the navigation bar by following the instructions here).
By default, you'll see the HubSpot Intelligence Names of recently viewed records. You can click on the view dropdown, select a saved view, then click Go! to see the records in that view (All Intels will show all HubSpot Intelligence records).
To create a new view, click Create new view.
In step one, enter the View Name. In this example, we're going to create a view to show leads/contacts that recently converted on your site, so we'll enter Recently Converted.
Next, choose whether you'd like your new view to include all records or only those owned by you and set your filter criteria. In this case, we'll set the filter to Recent Conversion Date | equals | LAST 7 DAYS (for more inormation on relative date values for filter criteria in Salesforce, click here).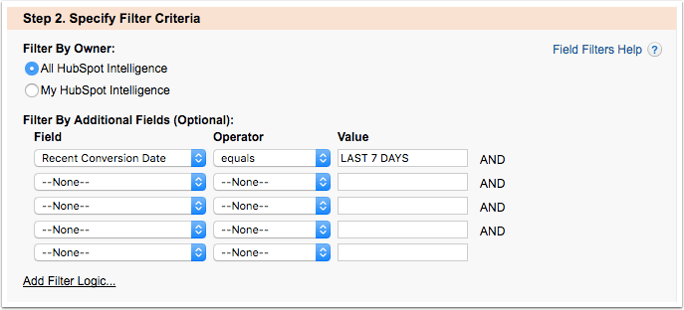 In step 3, you'll be able to choose which columns will appear in your view. Choose a field from the Available Fields box and click the Add (right arrow) button to add it to the Selected Columns box. In this example, we'll add Contact, Lead, and Recent Conversion Date so that we can see the name of each contact or lead and when they converted.
Lastly, choose whether or not you'd like to restrict the visibility of this view to just you or other users in your Salesforce account.
Once you've finished setting up your view, click Save.
Your view will now appear in the dropdown on the HubSpot Intelligence object. Select your new view from the dropdown and click Go! to view the HubSpot Intelligence records that match the view's filter criteria.