When attempting to enable the Salesforce Account Sync, you may not be able to turn the sync on without first making changes to HubSpot or Salesforce. If the requirements for the Account Sync are not met, you will see the option to turn the sync grayed out with a blue information icon. For steps on enabling the Account Sync, refer here.
By clicking the blue information icon, you will get an explanation of why the Account Sync cannot currently be enabled.

In some cases, you may not be able to turn the sync on without making changes inside of Salesforce. An example of this is if the Integration User (the person whose credentials are entered in HubSpot) does not have access to see certain fields critical to the sync: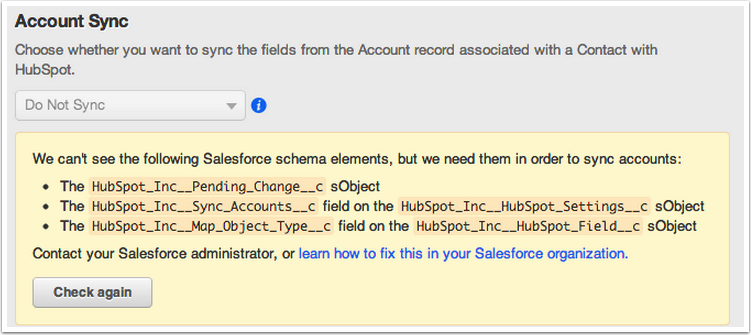 If you see an error relating to field access, first attempt to give the Integration User appropriate permissions by following the steps listed here. If adding the permission set is unsuccessful, ensure that the Integration User has read access to the fields listed. Updating the profile of the Integration User to System Administrator may also solve permission errors. Once you have completed these steps, click 'Check Again'. If an error still persists, contact HubSpot Support.
Note: HubSpot does not support using the Account Sync with Person Accounts. For more information, please refer to this knowledge article.