There are two types of suspensions regarding the Salesforce integration with HubSpot: temporary suspensions and suspensions that require additional action. You can opt to receive an email notification if your Salesforce integration is suspended. Learn more here.
To see the details of a suspension:
In your HubSpot account, click your photo or avatar in the top right-hand corner, then click

Integrations

.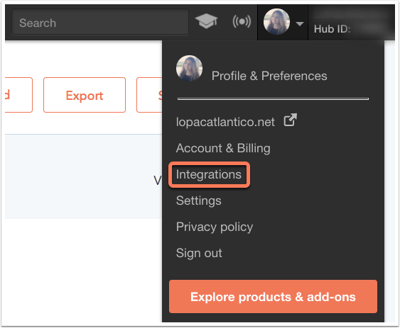 In the Salesforce Integration area, click Settings.
Temporary suspension
If your credentials are valid and you are under your API call limit, it is possible that Salesforce was temporarily unavailable when HubSpot attempted to sync. To preserve API calls, the connector may have suspended itself. In most cases, it will also automatically unsuspend itself after one hour. If you see a message like the one below, just click the blue resume syncing manually link to allow your syncing to continue.

Non-temporary suspension - Action is required
If our connector has detected a problem with your API call limit, your integration may be suspended because you have exceeded your API call limit.
If you have exceeded your HubSpot imposed API limit, you may increase it in the General settings tab. The connector may take up to fifteen minutes to unsuspend. If you have exceeded your Salesforce API limit, you will need to wait for more API calls to become available. Salesforce API calls have a lifespan of 24 hours; as the calls expire, they will automatically become available and HubSpot will automatically unsuspend itself.
HubSpot suggests that you limit the amount of API calls that can be used in order to keep HubSpot from affecting other integrations you may be using in Salesforce. You can do this within your Salesforce Connector Settings in HubSpot.
Still suspended?
If you adjusted your API call limit but you're still getting suspension messaging and do not see an option to Resume syncing manually, contact Support by clicking the Help button in the bottom-right corner of your screen.