Use anchor links to help your visitors navigate to a specific section of your content without scrolling.
Please note: it's strongly recommended not to use anchor links in emails because anchor tags don't work in all email clients. Anchor links also won't work in the email preview in HubSpot.
In your HubSpot account, navigate to landing pages, website pages, blog, or knowledge base.
Hover over the page, blog post, or knowledge base article where you want to add an anchor, then click Edit.
Click the rich text module to place your cursor where you want to insert the anchor. You can also move the anchor to a different location after you create it.
In the rich text toolbar, click the Insert dropdown menu, then select Anchor.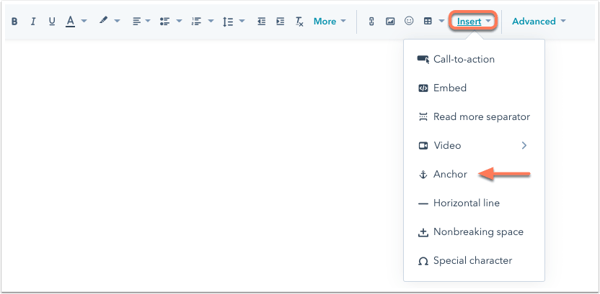 Give the anchor a name.

Anchor names must begin with a letter and may only contain letters, numbers, hyphens, underscores, colons and periods.

If you want to use more than one word for your anchor, separate each word with dashes (-). In the example below, the anchor is named book-selection-process. Then, click Insert.
The anchor will appear as a blue horizontal divider. You can drag and drop the anchor divider to move it to a different position on the page.
Next, create the link that sends the visitor to the section of the page where the anchor is inserted. Highlight the text you want to hyperlink in the content body, then click the link icon

link

.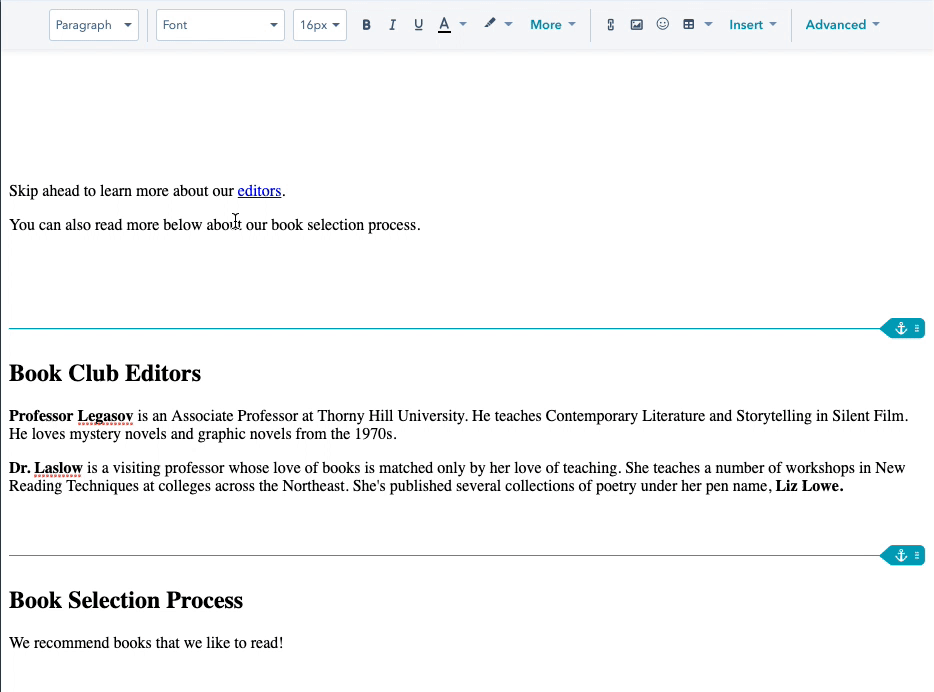 Under Link to, click the dropdown menu.

If the anchor you're linking to is on the same page as your link, select Anchor on this page. Then, click the Anchor dropdown menu and select the name of the anchor you want to link to. In the example below, book-selection-process is selected.
If the anchor you are linking to is on a different page as the link, select URL. Then in the URL field, include the full URL of the page followed by the hashtag symbol # followed by the name of the anchor. For example, http://offers.hubspot.com/product-guide#step-2.

Click Add link.



If a visitor clicks this anchor link, they'll be redirected to the section of the page, blog post, or knowledge base article where the anchor was placed.