Create and send customer feedback surveys to score your product, service, or experience.
Create feedback survey
In your HubSpot account, navigate to Service > Customer Feedback.

Cl

ick

Create survey

in the upper right.

Build it for me: you will be asked a series of questions to determine and create a survey to meet your goal.
Choose template: create a survey from one of our pre-built templates, see instructions below on how to create the survey:
Create feedback survey using the build it for me tool
Select the delivery method for your customer satisfaction survey by clicking

Email

or

Web survey

.

In the Who do you want to survey? screen, select one of the following:

Your current customers (email survey only): survey all contacts with a lifecycle stage of Customer.
All visitors (web survey only): survey all visitors to your website, app and product.
Marketing lists: send surveys to an existing static contact list.
Enrollment criteria: send surveys to contacts that meet an enrollment criteria. For example, all contacts that became a customer 60 or more days ago.
Decide later: select your audience after you have created your survey.

To continue, click Next.
If you are sending to a marketing list, select your static list from the dropdown menu.
To continue, click Next.
In the left panel, select the goal of your survey. The right panel will show a preview for each option.


To continue, click Next.
Click the Choose your survey language

dropdown menu and select the language you want the survey to be in.

Enter your survey question. To insert a personalization token, click

contacts

Personalization token, click the Add contact token dropdown menu and select a token, enter a Default value and click Insert.
For web surveys, select one of the

default color options, or set a custom color by entering a

hex color value

or clicking the

color picker

to the right.
In the right panel, preview how the question looks.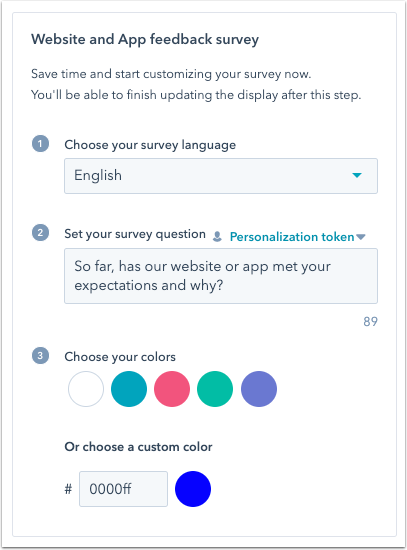 When you're done, click Create survey to continue setting up your survey.