When you start sharing your sales documents, analyze data about each document's performance. You can review data about your documents on your reporting dashboard and in the sales content analytics tool (Sales Hub Professional and Enterprise only).
Reporting dashboard
Analyze your document's performance using two reports on your reporting dashboard.
Navigate to your HubSpot dashboards by clicking the sprocket icon

sprocket

in the top left corner of your account.
In the upper right, click Add Report.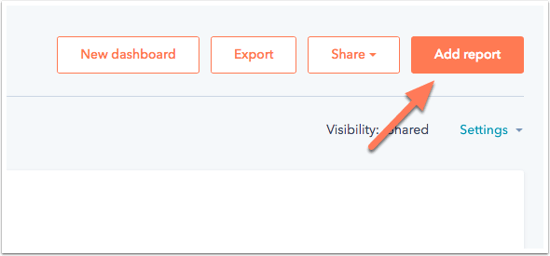 In the left sidebar menu, navigate to Sales > Documents.
Here, you'll see two reports you can use to analyze your documents' performance.

Documents Summary: shows a high-level overview of how your documents are performing.
Top Documents: shows your most popular documents.

In each report, you can analyze the following metrics:

Views: the total number of views on shared documents.
Unique visitors: the total number of visitors who viewed the document at least once.
Shares: the total number of times a document was shared.
Average time spent viewing: average amount of time spent viewing a document.

To add a report to your dashboard, click Add report.
Please note: if the Add button is grayed out on the reports, this indicates you've hit the reports limit (10) for that dashboard. In order to add more reports, you can create a new dashboard or remove reports from the current dashboard.
Sales content analytics
If you are a Sales Hub Professional or Enterprise user, you can view document performance data in the sales content analytics tool.
In your HubSpot account, navigate to

Reports

>

Analytics Tools.
Select

Sales Content Analytics.
Click the Documents tab.
At the top of the report, click the Date range dropdown menu to analyze your documents' performance over a specific time period.

If you select a

date range consisting of a week,

the default starting day is

Sunday

.

By default, you'll see data for all of your users using the documents tool. Click the Users dropdown menu

to filter the data by a specific user.
The first report shows an overview of how your contacts engage with your shared documents.
The table below the overview shows the performance of each individual document. Select the checkbox next to the documents to display in the overview report. To open the document summary page, click the name of the document.
To edit the metrics displayed in the table, in the top right, click

Edit

columns

. Select

the

checkbox

next to the properties to display, then click

Save.

To save the report to your dashboard, click Save as report.
If you have the HubSpot Sales Chrome extension or the HubSpot Sales for Windows tray app installed, learn how to view your document views in the activity feed.