Please note: revenue reporting is only available for HubSpot Marketing
Enterprise
accounts. If you are interested in upgrading your account to gain access to this feature, please contact your Account Manager or
begin your 30-Day Free Enterprise Trial
.
In order to utilize revenue reporting, your HubSpot account needs to be syncing with and utilizing Deal properties. These are implemented in one of four ways:
If you're using either one of the above, you should be able to continue onto the steps below to build a revenue report.
1. Navigate to Reports Home
From your HubSpot Marketing Dashboard, navigate to Reports > Reports Home.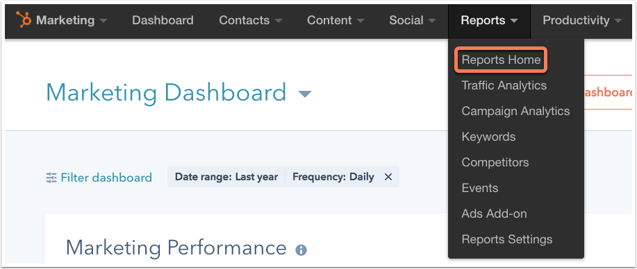 2. Create a new report
Once at Reports Home, you'll want to click the blue button to Create a new report.
3. Contacts Report
From the pop-up window, click on the Contacts Report section.
Next, you'll want to choose what type of Contacts Report you want to build. In this case, you want to choose Contacts Revenue Last Month by clicking the radio button next to that option. Then click the button to Create report.
(Revenue reports will have a green dollar sign next to them).
Additionally, you can also create a Revenue Report using the Companies Report instead the Contacts Report. In this example, though, we'll be using the Contacts Report.
4. View and Edit Report
This will automatically create a revenue report showing you the amount of revenue generated last month for all Contacts. If this is all you need, you're done building your report you can just view it and use it as needed. If you want to change any of the criteria of this report, click on Edit Report.
5. Editing your report
Now you're able to edit the criteria that makes up your Revenue Report. Let's go over your options here:
Choose a group of contacts to report on.You can choose to report on all contacts from your database, an existing list in your HubSpot database, or you can create a new list while you're here.
Choose a conversion type and time period. For revenue reporting, you must select Recent Deal Close Date and you can select in what time range you'd like to report.
Choose how you would like to group your contacts. You can view your contacts by day, week, or month.
Break down report by contact property. This dropdown menu allows you to select which HubSpot contact property by which you will be breaking down your report.
Calculate total value of numeric contact properties. For revenue reporting, you must select Recent Deal Amount to pull in revenue-related data.
Create report: click this button when you've chosen all your appropriate properties and contacts.
6. Viewing your report
Now that you have the criteria you want for your revenue, let's go over a basic view of a revenue report.
1. Title: your report title is generated for you based on the criteria of your report. You can click on this area to change the title of your report if you want it to be something more specific.
2. Sum/Avg of Recent Deal Amount: this dropdown will display your data for this report based on the sum of Recent Deal Amount or the average of Recent Deal Amount.
3. Standard or Cumulative: these buttons will display your graph in standard bar chart format or in a cumulative, linear format.
4. Graph: this is where you will view your graph data for your time range.
5. Breakdown: This shows you all contacts who fit the criteria of this report within the given time, as well as the sum of Recent Deal Amount and the average of Recent Deal Amount (totals).
6. Contacts: Here you'll see each contact in this report, including their name, email, and the value in their Recent Deal Amount contact property.
7. Edit report: Don't worry if you made a mistake in one of the options you chose for your report, you can click this button to go back and make a change.
8. Goal tracking: You can choose to set a goal for yourself on how many contacts you'd like to get on this report within a specific time period. So the first (text) box, you'll enter a number, and then the dropdown you'll choose either Daily, Weekly, Monthly, or Yearly.
9. Report Actions: this is where your other basic options are for using, sharing, re-creating, or deleting your report.
Email your report
Within your contacts report, you can email your report out to a specific contact (or number of contacts), with a small message, what view to display from the graph, what metric to focus on (contacts, sum, or average) and then you can also set a frequency in which this report is emailed.
On the day specified within a schedule, these emails will be sent on that day at 5am EST.
Export your report
You can export a report by pressing the export button in the sidebar. The data from the report will be emailed to you as an excel or CSV file, depending on the number of rows. Any report over 64,000 rows will be emailed as a CSV.
On the bottom right-hand side you'll also see your Report Details area. In this section you can see what criteria you based your list off of quickly, without having to go in to edit the report to see this data. Also, this shows you who last modified your report and when.
Additional revenue terms
Revenue reports contain a lot of terms that are unique and are useful to know if you want to go further with building out your revenue reports aside from the pre-built ones in HubSpot. Here they are:
Total Revenue - the total amount of revenue generated by companies in your database
First Deal Created Date - the first time an opportunity was created. This would most likely be created the first time a sales rep sees a company as a potential deal
Recent Deal Close Date - the most recent time a deal closed
Recent Deal Amount - the most recent amount a deal paid. If you have customers who pay more than once (renewals or upgrades), there would be a new date every time they renewed or upgrades. This field will take the most recent deal amount.
Associated Deals - the number of deals associated with the company or contact