Navigate to social publishing
In your HubSpot Marketing Hub Basic, Professional, or Enterprise account, navigate to Social > Publishing.
This is the social media publishing dashboard where you will see all of your social media messages that have been published from your HubSpot account.
Compose a message
To begin creating a new message, click Compose a message at the upper right.
Select an account
To begin, select the first social media network you want to publish to. This will take you into the composer window.
You can publish messages to Facebook, Instagram, Twitter, LinkedIn, Google Plus, or Xing using the tool. If you haven't yet connected your accounts to HubSpot, click here for instructions.
Write your message
In the text area, begin writing your message to your followers. While you do so, consider the following:
Consider your audience's interests - w

rite posts that resonate with the things your audience cares most about.

Have a non-lead generation goal for every post - d

on't write every message with your own desire to make a sale in mind. Aim for the relationship first.

Consider including an image

- the click-through rate (CTR) of posts containing photos is 128% higher than the CTR of posts containing videos or links. You might also be interested to know that

photos on Facebook generate 53% more Likes

than the average post. Consider posting an image with your message. Keep in mind that attaching an image to a Twitter post takes up approximately 11 of your characters. The various social media sites will automatically scale your image to meet their specifications, but it is best to choose a decently sized image so it does not distort if enlarged by the social media site.
Attach a blog post, landing page, image, or video to your message
After you've drafted your message, choose the content that you're going to promote. You can use the attachment icon to quickly select a blog post or landing page to attach to your message, then click OK when you've chosen your content. This will insert a link and the title of your page directly into your social message for you.
If you'd like to share content that isn't hosted on HubSpot, type the link to the content directly into the message box instead of using the attachment menu. Make sure that your link starts with http:// or https://.
Click the
image icon
to insert an image of your choice. You can drag and drop an image file from your computer or click
select a file
to browse images you've previously uploaded.
New
files imported from your computer into the social tool will be placed
in a folder called
social-suggested-images
in your file manager.
If you're composing a Facebook message, you also have the option to attach a video. Once you've drafted your Facebook message, click the video icon in the composer. Click Browse folders to select a video from your file manager or select Add video > Upload to upload a video saved on your computer.
Please note: at this time, Facebook is the only social media platform that supports video attachments within HubSpot. Video uploads cannot exceed 20 minutes in length. Images and videos must be uploaded in one of the following formats: png, jpg, jpeg, gif, mp4, avi, mov, mpeg4, mp4, or m4v. Keep in mind that while you can attach gif files as images in Facebook posts, gif animations will not play on Facebook. Gifs will appear with animations when publishing to Twitter.
Once your image or video is uploaded, click it and select Insert to add it to your post.
Choose a time to publish the message
The message composer will automatically select a publish date based on your social media publishing schedule, but you can change the date by clicking on the When (date/time) dropdown menu. You can choose a specific date and adjust the time here, or click Publish now to publish the social message as soon as you're done composing. Click Save once you've decided when you'd like to publish your message.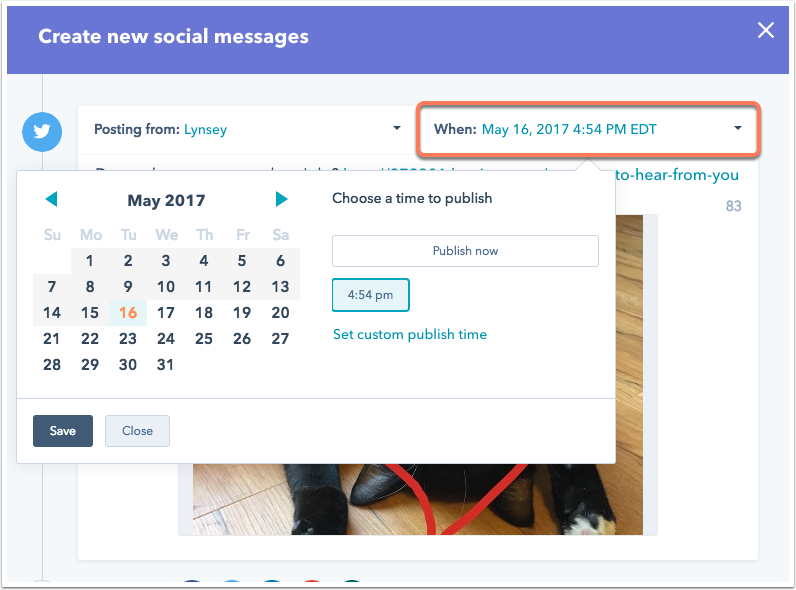 Choose a campaign
After you've written your message, include a link to your content and pick a time to post it. The last step is to choose a HubSpot campaign to associate the message with. Click the Campaign link located at the bottom right of the compose screen and choose a campaign name from the menu that appears.
Add another message
Once you've set up your message, you can choose to publish to another social account by clicking on the social icon next to Add another.
It's best to do this once you're done composing your original message because adding another social account to post to will duplicate your original message, which you can then edit if you'd like.
Schedule or post your message
Once your message(s) is ready to go, click Schedule message(s) to schedule it for publishing.
View scheduled messages
You'll receive a confirmation that your messages have been scheduled, but you can see or access these for editing by navigating back to
Social
>
Publishing
and clicking
Scheduled
in the left sidebar menu.
Now you can see all of your scheduled messages and when they are scheduled to be published. From here, you can delete messages, edit them, and filter by scheduling status, social media network, and campaign.