In your HubSpot account, navigate to Sales > Tasks.
Select the checkboxes next to the tasks to export.
In the header row, click

download

Export.
In the dialog box, click the File format dropdown menu and select a format for your exported file.
Next,

select the properties you want to include in your exported file.

Include only properties in columns:

include only the

properties currently set as columns on the Tasks dashboard. To customize the columns, click the Actions dropdown menu in the upper right, then select Edit columns. Select the checkbox(es) next to the properties to include, then click Save.
Include all properties:

include

all task

properties

in your export.

Click Export. You'll receive an email with a download link to your export file.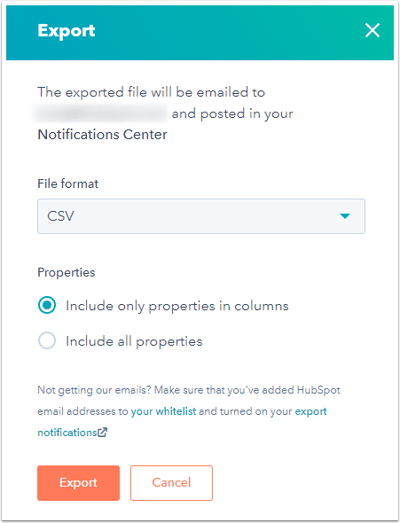 Please note:
The Activity created by column in the export file refers to the user that is

assigned

the task.
The Activity date column in the export file refers to the

due date

of the task,

not

the date where the task was created.

The Associated with column

cannot

be exported.