The HubSpot mobile app gives you access to some of your most important marketing (iOS only) and sales tools and data (iOS and Android) on the go.

Once you log in to the HubSpot app, you can access reports in your Digest, view and update contacts and companies in Contacts, monitor your deals and tasks in Sales or Tasks, analyze your email engagement in Marketing, access your chat conversations directly in Conversations, and manage your Settings.
Please note: in the HubSpot mobile app, you'll only be able to see the HubSpot tools you have access to based on your user permissions. If you aren't seeing all the tools you expect in the app, you may need to ask an account administrator to edit your user permissions.
Mobile digest (iOS only)
When you first log in to the HubSpot mobile app, you can select which widgets appear in your Digest. The Digest screen can be customized to show you information for the HubSpot CRM & Sales, Marketing, and Productivity.
If you want to add, remove, or reorder the widgets on your digest screen, tap
Edit Widgets
at the bottom or
Edit
in the top right. Here, you can tap
Add a widget
to add a new widget to your digest or tap and drag the
listView
icon to reorder your widgets.
The available digest widgets include:
Marketing performance
Email
Landing pages
Blog posts
Deal updates
Leaderboard
Tasks
Activity feed
Marketing performance
The marketing performance widget displays metrics for your website sessions, contacts, and customers for the timeframe specified. You can tap Sessions, Contacts, or Customers to change the visualization.
Email
Measure the success of your email sends by analyzing the delivered rate, open rate, and click through rate for your emails sent in the timeframe selected.
Landing pages
Analyze your HubSpot landing page performance in the mobile app. Here, you can see Views, Submissions, Conversion %, and New Contacts for your landing pages. You can also tap the dropdown menu to view your Top Landing Pages.
Blog posts
Analyze how your blog posts are performing in the mobile app. Here, you can see the number of blog posts published. You can also view your top blog posts for the timeframe selected by tapping the up icon next to Top Blog Posts.

Deal updates
Check on any open deals in your mobile digest. Here, you can see which deals are in each stage as well as ask for an update from the deal owner. This allows you to comment, create an Activity, or a Task for the deal. Swipe left or right to scroll through your deals.
Leaderboard
View a leaderboard that ranks your sales reps based on revenue closed, weighted deal total, emails sent, calls made, and meetings booked for today, the week, month, quarter, or year.
Tasks
View your assigned tasks in the Tasks widget. Here, you can sort by tasks that are overdue, due today, or in the future. You can also create new tasks by tapping the + icon or edit or mark a task as complete by selecting the checkbox.
Activity feed
With the activity feed widget (iOS) and Activity menu item (Android) you can monitor your recent HubSpot Sales activity.
iOS: View and filter your Opened,

Sent, and

Clicked

emails,

and website Revisits, and see other sales engagements such as calls and meetings. Yo

u can also send tracked emails from the app, which will be recorded in your activity feed.

Android: View your Opened, Sent, and Clicked emails, and

send tracked emails from the app, which will be recorded in your activity feed.
Contacts
With HubSpot's mobile app, you have access to the latest lead intelligence data on any of your contact and company records. Mobile contacts allows you to:
Add a new contact or company
Make changes to any existing contact's or company's properties by tapping the Properties tab
Associate a contact with a company
Call, send a tracked email, or send a text message to your contact using the icons below their photo
Add a note, activity, or task on a contact or company's record
(Android)
Filter contacts and companies
Filter contacts and companies based on your saved filters in the HubSpot CRM. This way, you always have a list of your most qualified leads in your pocket.
Sales
In Sales, view your deals in each deal stage. Swipe left and right to view the existing deals in each of your stages. You can also tap the + icon in the top right to create a new deal, and tap a deal to view its timeline, contacts, and properties. On the deal timeline, you can add a note, activity, or task.
(iOS)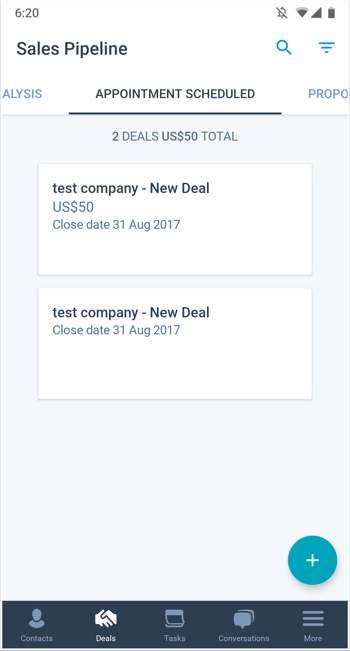 (Android)


Marketing (iOS only)
In Marketing, you can dig deeper into your marketing email metrics right on your mobile device. In the Analyze tab, visualize your email Engagement, monitor your Deliverability, see your Contacts Lost, and measure your Opens and Clicks by device.
In the List tab, view the opened and clicked rates for each individual email within your selected timeframe.
Tasks (Android only)
In Tasks, view and edit all due and future tasks. You can also tap the + icon to create a new task.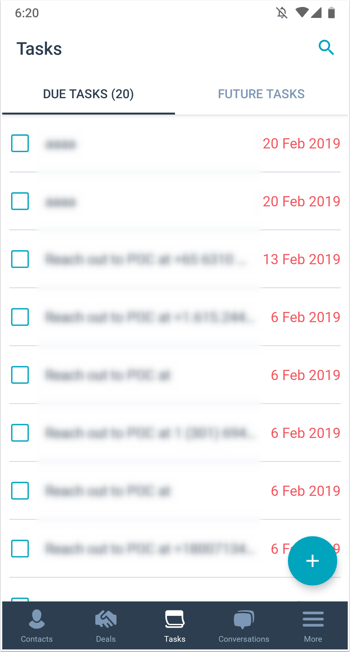 Conversations
In Conversations, access your chat conversations and continue the conversation with your leads and contacts while on the move. Learn more about using conversations in the mobile app.
Settings
In Settings, you can manage your Preferences and Account settings, as well as provide feedback on the mobile app and get help from the HubSpot Support team.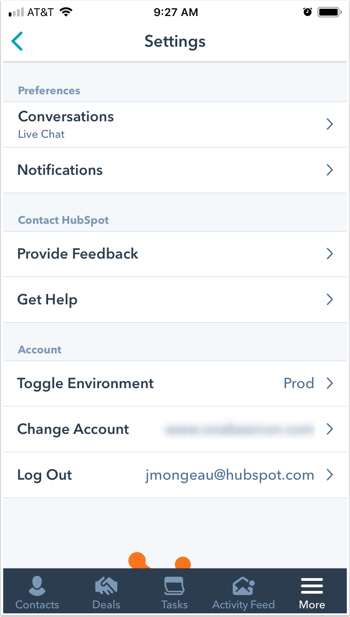 (iOS)
(Android)