HubSpot offers out of the box features that can help you execute an account-based marketing (ABM) strategy.
Learn more about account-based marketing and how to adopt it into your existing strategy.
Properties
Data in the following default properties will be used in ABM reports and ABM lists.
Contact
Buying role: identifies the role that a contact plays during the sales process. Contacts can have more than one role, and they can share the same role with another contact. Example property options are Decision Maker, Budget Holder, and Blocker.
Company
Target account beta: identifies the companies that you are marketing and selling to as part of your account-based strategy. This is a single checkbox property.
Ideal customer profile tier: represents how close a company matches your ideal customer profile in three tiers. Companies that are Tier 1 should be a great fit for your products/services, where Tier 3 might be acceptable, but low priority.
Assign values manually to these properties, or create a workflow to automate the process.
Reports
Based on the above properties, you can analyze your ABM efforts with a set of ABM reports, accessible from your report library or dashboard:
Ideal customers
Target accounts by page views
Target accounts by source
Deal stage by target accounts
Target accounts by active deal amount
Target account sessions
Target accounts by owner
Activity report by target account
Buying role by target account
Contact lifecycle stage by target account
Contact source report by target account
Contacts created at target accounts weekly
To access the ABM reports dashboard:
In your HubSpot account, navigate to Reports > Dashboards.
In the upper left, click the dashboard dropdown menu, which is the name of the current dashboard you're in, and select

Account-Based Marketing

.
To access the individual reports:
In your HubSpot account, navigate to Reports > Reports.
In the upper right, click Report library.
In the left sidebar, select the Target accounts checkbox.
Learn more about accessing and saving reports in the report library.
Lists
By default, your HubSpot account comes with pre-built contact lists based on ABM contact and company properties. These lists will help to segment accounts for outreach, and can be used when creating ads audiences.
All contacts labelled as a "Decision Maker"
All contacts labelled as a "Champion"
All contacts labeled as a "Budget Holder"
All contacts at Target Accounts
Workflows
When creating a company workflow, select the workflow template Sort companies by ideal customer profile fit to automate account categorization. By default, the customizable template evaluates the companies in your account by Annual revenue and then assigns a tier value to the company.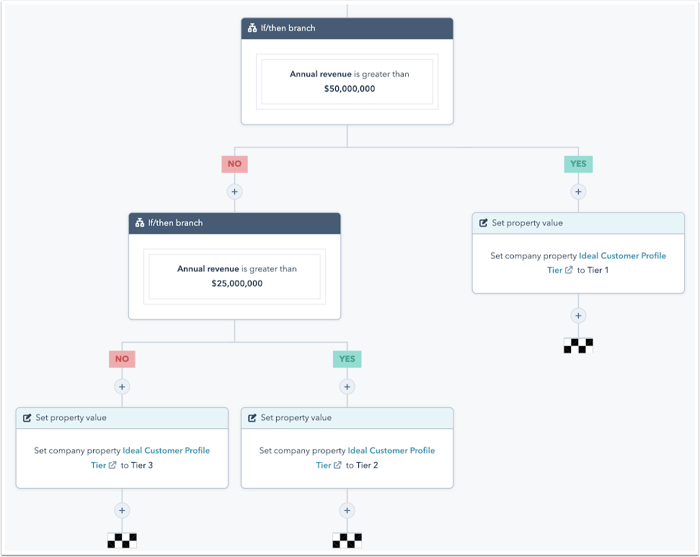 Sequences