Learn how to log into HubSpot, reset your account password, reactivate an account, and other situations that could occur when you try logging into HubSpot.


Log into your HubSpot account
To log in to your HubSpot account:
Visit the

login page.
Enter your credentials to log in:

Enter your email address and password, then click Log in. If you forgot your password, reset it.
If you use a Google account to log into HubSpot, click

Sign

in with Google, then follow the prompts to log into your Google account.
If you're an Enterprise user with single sign-on (SSO) enabled, click Log in with SSO, then follow the prompts to log in with your email address.

If you have

two-factor authentication enabled, verify your login (mobile device with SMS or Google Authenticator) to access your account.
Passwords and security
Reset your HubSpot account password
If you need to reset your password, click Forgot my password on the login page and follow the steps to reset your password. Learn more about resetting your password in HubSpot. If you still aren't able to log in after resetting your password, follow these troubleshooting steps to resolve the issue.
Proactive password resets
For security reasons, HubSpot checks your password against publicly leaked passwords. When the password you're using matches a password that has been publicly leaked, HubSpot will prevent you from logging in, then send you a password reset email. This protects your account from bad actors who have access to such publicly leaked passwords.
When you receive the email, click Visit your HubSpot account and update your password at the bottom of the email and continue to update your password. Once your password is updated, you should be able to log into your HubSpot account.
Password creation for new accounts
When creating a password for a new HubSpot account, HubSpot will check the password against publicly leaked passwords. If HubSpot detects a match to a leaked password, you'll see the following error message: Please choose a different password. This has been identified as a risky password.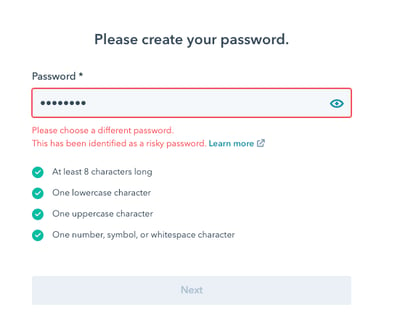 To protect your account, HubSpot won't allow you to use this password, as it's a commonly known password on the internet. This doesn't mean that any of your other internet accounts have been compromised, but it's recommended that you change this password if you're using it elsewhere.
Improving password security
For better HubSpot account security, you can consider doing the following:
Confirm login
When HubSpot doesn't recognize where you're logging in from, HubSpot requires you to confirm your identity. To confirm your identity, HubSpot will send a verification code to your user email address. This is separate from the confirmation code you'd receive when logging in with two-factor authentication. Once you confirm your login, you can continue to use HubSpot as normal.
To confirm your login:
After entering your login credentials, you'll be redirected to a page that will prompt you for a verification code.
Access the email inbox associated with your HubSpot account to retrieve the verification code.
On the verification page, enter the code, and click Log in.
If you're asked to confirm your login often, consider enabling two-factor authentication. With 2FA enabled, you can verify your login with your mobile device instead of email. You'll then have the option to prevent login confirmations by selecting Don't ask me again on this computer when logging in.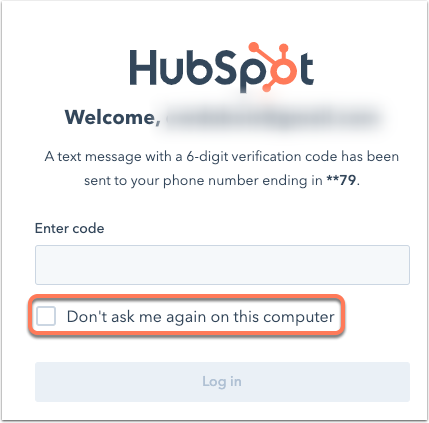 Recover your inactive HubSpot account
A free account will
be deactivated
if you don't log in or use your HubSpot tools for more than 210 days. If not recovered, the deactivated account will then be

purged

after 90 more days (i.e., a total of 300 days). Once purged, you will not be able to retrieve your account.
If your account is inactive for 180 days, you'll get an email notification. To ensure your account does not get deactivated, in the email, click
Sign in
and log into HubSpot.
If it's been more than 210 days since you've logged into HubSpot, the free account will be deactivated. When you try to log in and have no access to any active HubSpot accounts, you'll get a message stating: You have no accounts.
If you don't intend to use HubSpot, you can delete your user. If you want to recover your deactivated account, submit your information to the Community team through the linked form below.
Please note: if your account is purged (i.e., a total of 300 inactive days), it cannot be recovered.
Additional troubleshooting
If you're still unable to log into HubSpot after resetting your password, try the following troubleshooting steps:
Manually visit

login.hubspot.com and try to log in.
If you have multiple email addresses, ensure that you're using the email address associated with your HubSpot account.
Clear the cache and cookies in your browser and retry.
Check status.hubspot.com

to see if there's a known login issue. HubSpot will continue to update this page with any new information.
Try logging in from another network (e.g., from the cellular network on your smart phone) to see if the issue is network-related. If you are able to log in from another network, contact your IT department or network administrator.
If you're logging into your HubSpot

Sales Hub

account, you may see a redirect to another login page or a perpetual loading screen when attempting to log in. If you are seeing this behavior, try the following:
Enable third-party cookies in your Chrome settings:

In the upper right-hand corner of your Chrome browser, click the

three vertical dots

.
Click

Settings.

Click

Advanced to expand the section at the bottom, then click

Content settings.
Click

Cookies.

Ensure the

Block third-party cookies

switch

is toggled

off

and that the Allow sites to save and read cookie data (recommended)

switch

is toggled

on.
Please note: only HubSpot customers, free users, or trial users can log into HubSpot. If you signed up to receive an ebook or registered for a webinar, but don't have an active account, you won't be able to log in.
If you're unable to log in after following the steps above, submit your information.