Get help with HubSpot
Last updated: August 3, 2021
If you have any questions or technical issues while using HubSpot, click the Help button in the bottom-right corner of your account to see your HubSpot Support options.
Your access to HubSpot Support depends on your subscription type:
| | | | | |
| --- | --- | --- | --- | --- |
| | HubSpot's Free Tools | Starter | Professional | Enterprise |
| Knowledge Base | ✓ | ✓ | ✓ | ✓ |
| Community | ✓ | ✓ | ✓ | ✓ |
| Chat Support | - | ✓ | ✓ | ✓ |
| Email Support | - | ✓ | ✓ | ✓ |
| Phone Support | - | - | ✓ | ✓ |
HubSpot Knowledge Base
HubSpot's Knowledge Base is a library of how-to guides, reference docs, and troubleshooting steps. Search or browse the Knowledge Base to get help with all of HubSpot's tools. You may also see helpful links to relevant articles within the HubSpot app.
At the top of the help panel, you'll see the top Knowledge Base articles for the specific part of the tool you're in. You can also search the HubSpot Knowledge Base and view help articles within this panel, to keep working in-app while you read. If you prefer to view the full article in a new browser tab, click Open in new tab externalLink at the top of the article.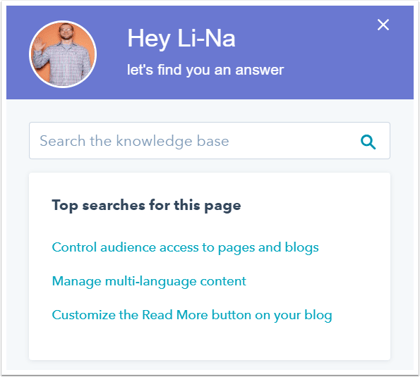 HubSpot Community
HubSpot's mission for the community is to provide users with a place to ask questions, find answers, and engage with professionals from around the world. The HubSpot Community helps foster conversations and allows you to get the most out of HubSpot's products.
To get help or take part in discussions on the community, click Ask the community at the bottom of the help panel.
To ask and answer questions about the HubSpot CRM and sales tools, click CRM & Sales Hub.
To discuss HubSpot's marketing tools and inbound strategy, click Marketing Hub.
To ask and answer questions about HubSpot's service tools, click Service Hub.
To browse the community by top authors, click Meet the experts.
To submit, browse, or vote on feature requests to improve HubSpot's products, click Ideas.
To learn and share in-depth knowledge about custom development using HubSpot's API or CMS, click HubSpot developers.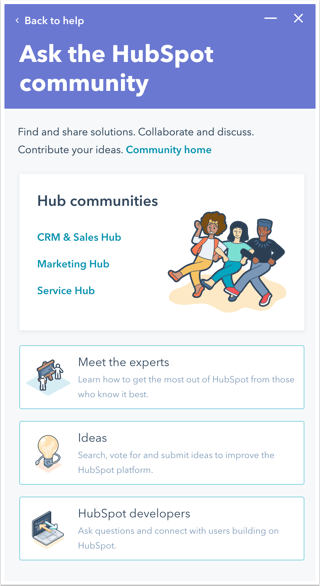 You can also access the community directly at any time in your browser:
You'll be redirected back to the community where you can browse through topics or create your own. Learn more about
the HubSpot Community
.
HubSpot Support
Contact HubSpot Support
Please note: HubSpot currently only offers phone support in English. Chat, callback, and email support is available in English, French, German, Japanese, Portuguese, and Spanish. To request a call-back in a specific language, ensure that your individual user settings are set to that language.
To contact HubSpot Support:
In the Support section of the help panel, click Contact support.
To start a chat conversation, select Chat at the top of the help panel. Then, enter a message into the message field and then hit enter. Depending on support volume, chat support may not be available.
To have a HubSpot support representative call you, select Call me at the top of the help panel. Then, enter the Problem overview and Description for what you'd like help with. Then, enter the phone number that you'd like to be called at. Depending on support volume, callback support may not be available.
To start an email conversation, select Email at the top of the help panel. Then, select your preferred language. Then, enter the Problem overview and Description for what you'd like help with. You can attach any relevant screenshots by clicking the attach icon

attach

.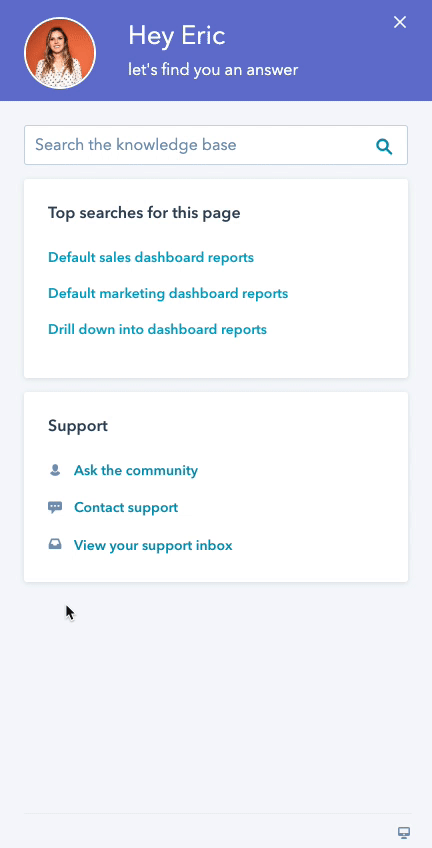 When submitting a ticket, there are several steps you can take to help ensure that your issue is resolved efficiently:
Be specific: if a ticket reads "my list isn't working," support specialists can't begin investigating the issue until they know which specific list isn't working, or what you're seeing on your end that is different than the expected behavior.
Include links: support specialists can access most parts of your account. If there's a specific part of the tool you're referring to, you can guide the specialist to the relevant list, workflow, contact, etc., by including URLs in your ticket.
Clarify with visuals and activity logs: it can be hard to describe an issue with words, particularly if it's only happening on your browser, your device, or your office network. It's helpful to include screenshots, videos, GIFs, or HAR files in your ticket when possible.
Whether you submit a call-back request, web ticket, or start a chat session, keeping these tips in mind will allow HubSpot's support specialists to begin working toward a resolution as soon as the ticket is assigned.
After you enter information about your issue, submit the ticket to get assistance from HubSpot Support:
If you're submitting a call-back request or web ticket, click Submit.
If you're starting a chat, click Send message.
View your support inbox
Your support inbox allows you to get in touch with HubSpot support, as well as view your account's current and past tickets with HubSpot support.
To enter your support inbox, click View your support inbox in the Support section of the help panel.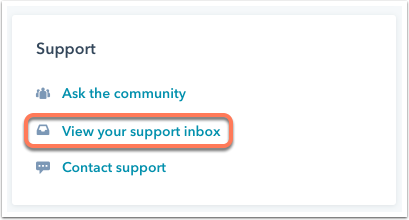 In the left sidebar of your support inbox, view your current and past support tickets. Use the ticket status dropdown menu at the top to filter between All tickets, Open tickets, Closed tickets, and Favorites. Users with Account access permissions can view tickets submitted by all users in the account by selecting the Include company tickets checkbox.
To add a ticket to your Favorites, click the star icon

favorite

favorit

at the top of a ticket.
In an open ticket, you can:

send a message to HubSpot support by entering text into the message field, then clicking Send.
close the ticket by clicking Close this ticket at the bottom of the ticket timeline.

In a closed ticket, you can:

submit ticket feedback by filling out the survey at the bottom of the ticket.
reopen the ticket by clicking Reopen this ticket if you want to further discuss the issues covered in the ticket.
create a new ticket for new questions or issues by clicking Create a new ticket.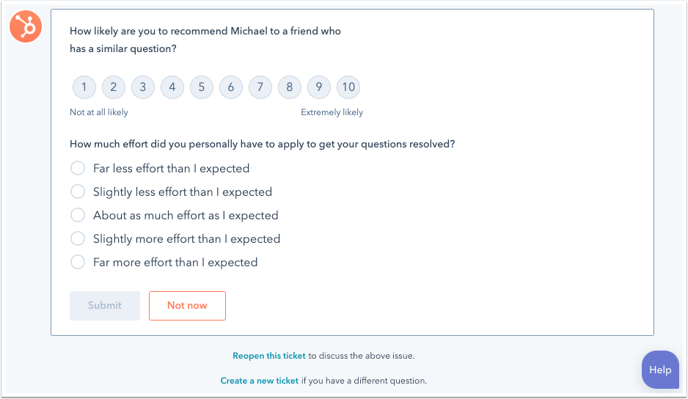 Notifications on support ticket activity
When you receive a reply from one of HubSpot's support specialists on an open support ticket, the Help button will turn blue along with a picture of the support specialist and a number that indicates the amount of activity. To navigate to your support inbox to view your ticket and respond to or close the ticket, click Help.