Marketing Hub Professional and Enterprise users can conduct A/B testing on a landing page. With the addition of a CMS subscription, users can also A/B test website pages.
An A/B test allows you to create a variation of an existing page, and test this change in the page's layout or content. The same page URL will load a random variation and after some time, you can compare the engagement on both versions.
Set up A/B test
Create a new page. This is the control version of your page, and most of the elements will be repeated on your variation. If you've already created a page, move on to the next step.
In your landing pages or website pages dashboard, hover over the page and click the More

dropdown menu, then select

Run a test

.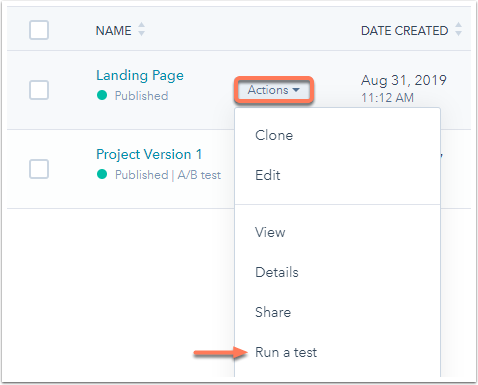 In the dialog box, select A/B Test and click Next.

Enter a

name

for the variation, then click

Create variation

. You'll load a clone of your original page.

Edit the page to create a new variation.

Consider the following variables for testing:
Offers: experiment with the medium of the offer. You might test an ebook versus a whitepaper or video.
Copy: experiment with the formatting and style of the content. You could test plain paragraphs versus bullet points or a longer block of text vs a shorter block of text.
Image: experiment with images to see how the conversion rate is influenced.
Form fields: experiment with the length of the form. S

hould your form only request an email address or should it ask for more information?

To edit the other variation of the page, click the dropdown menu on the upper left in the page editor and select the variation to edit.
Once you're done with your variation, take your variations live by clicking Publish in the upper right.
Review A/B test results
After you publish the variation and let the A/B test run for some time, you can review the test results.
In your HubSpot account, navigate to Marketing > Website > Landing Pages.
Click the name of the page with the A/B test.
Click the Test results tab.
Click the Date range and Frequency dropdown menus and select the timeframe of the results that you want to analyze.
Click the column headers in the table to sort the results by a specific metric.

To choose a variation as the winner of the test and stop displaying the other variation, hover over the variation and click Choose as winner

.

After some time has passed, you can rerun an A/B test on a losing variant. Hover over the variation and click Rerun this variation.
Please note: if you rerun a variation from an A/B test, the variation will be published immediately.