Browser notifications or push notifications appear in the corner of your browser when you're not active in HubSpot. User notifications alert you when various actions or activities occur in your account.
HubSpot supports browser notifications from Google Chrome, Safari, Mozilla Firefox, and Microsoft Edge.
In your HubSpot account, click the settings icon

settings

in the main navigation bar.
In the left sidebar menu, navigate to Notifications.
Click the Desktop tab and by default the Browser toggle will be switched to on. You can refine your browser notifications in the What to get notified about section below.
To allow your browser to display notifications, click Allow in the yellow alert box.
In the dialog box, click Continue.
In your browser pop-up, click Allow.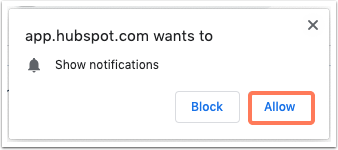 Please note: if you switch browsers or log in to your Hubspot account using a new device, you'll need to turn on browser notifications in HubSpot and allow them to display in your new browser.
Learn more about troubleshooting push notifications in your browser.