The HubSpot Chrome plugin makes it easier for you to share content through the HubSpot social media tool. Use it to share interesting content from the web, so that you don't miss out on the benefits of tracking these links later with your HubSpot social media analytics.
Not a Google Chrome user? Click here for instructions on how to install the HubSpot social media bookmarklet.
Create messages wherever you are
Schedule HubSpot messages from right inside your favorite tools. When you're ready to create a message in Twitter, Facebook, LinkedIn, or Feedly, we'll be right there with you.
Identify your contacts on Twitter
Take your contacts database with you when viewing your feed on Twitter. We'll show you which tweets are from customers, leads, or contacts, to provide you with the context you need to take the next steps.
Highlight and share
You can also highlight text and carry it through to your shared posts, saving you time and increasing engagement with your intended audience.
Instructions
Follow these steps to download the HubSpot plugin for Google Chrome.
1. Go to Social > Social Settings
From the dashboard, navigate to Social > Social Settings.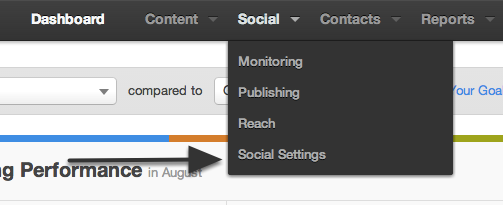 2. Click on Apps & Add-ons
On the left side of the screen, select Apps & Add-ons from the Social Settings menu.
3. Click on the Install button next to Chrome Plugin
Click on the Install button to install the plugin into your browser.
3. Click the Add button
Click the Add button to finish installing the plugin into your browser.
You'll then be redirected to the confirmation page for the extension and see the HubSpot Sprocket icon alongside your other installed Chrome extensions.
Next Article:
How to use Social Inbox to manage your social media engagements