Use HubSpot's social tool to create and publish social posts to promote your blog content or landing page offers on social media, increase traffic to your website, and reap the SEO benefits of being active on social media.
Learn how to craft perfect social media posts on the HubSpot Marketing Blog.
Please note: currently, Facebook's API does not support publishing to Instagram Creator accounts using HubSpot's social tool.
In your HubSpot account, navigate to Marketing > Social.
The social publishing dashboard displays all social posts that have been published from your HubSpot account.
In the upper right, click Create social post.
In the right panel, select the first social network

to publish your social post to. You can publish social posts to Facebook, Instagram, Twitter, or LinkedIn. If you haven't connected your social accounts to HubSpot, set them up first before continuing.
In the text box, enter the content for your social post.
To add emojis to your post, c

lick the

emoji icon

emoji

c

.

If you're creating a Facebook, Instagram, LinkedIn, or Twitter post, you can use the

@ symbol

to mention or tag other accounts. Instagram mentions will not be auto-completed, but Instagram will acknowledge the mention when the post is live.
Add hashtags to your posts using the # symbol.

Hashtags will not

be hyperlinked

in the drafted post or in the preview, unless you're previewing a Twitter post

. The hashtag will

be hyperlinked

after you publish the post.
Please note:
Facebook and LinkedIn's APIs only allow mentions or tags for Facebook pages or LinkedIn Company Pages. Individual Facebook or LinkedIn users

cannot

be mentioned when creating a social post in HubSpot.

Only Twitter accounts you follow will show up in the auto-complete dropdown menu. To mention Twitter accounts you don't follow, enter the full Twitter handle. Twitter will acknowledge the mention when the post is live.
After you've drafted your post content, choose the content you're going to promote.

To attach a HubSpot-hosted blog post or landing page to your post, click the attach

icon

attach

and select the blog post or landing page, then click OK.

This will insert the title and link of your content directly into your social post.

If you want to share content that isn't hosted on HubSpot, enter the content link directly into the text box.
Once you've added the content link, a post preview will be generated from the content metadata. This will include a picture (if available), title, meta description

(if available)

, and link.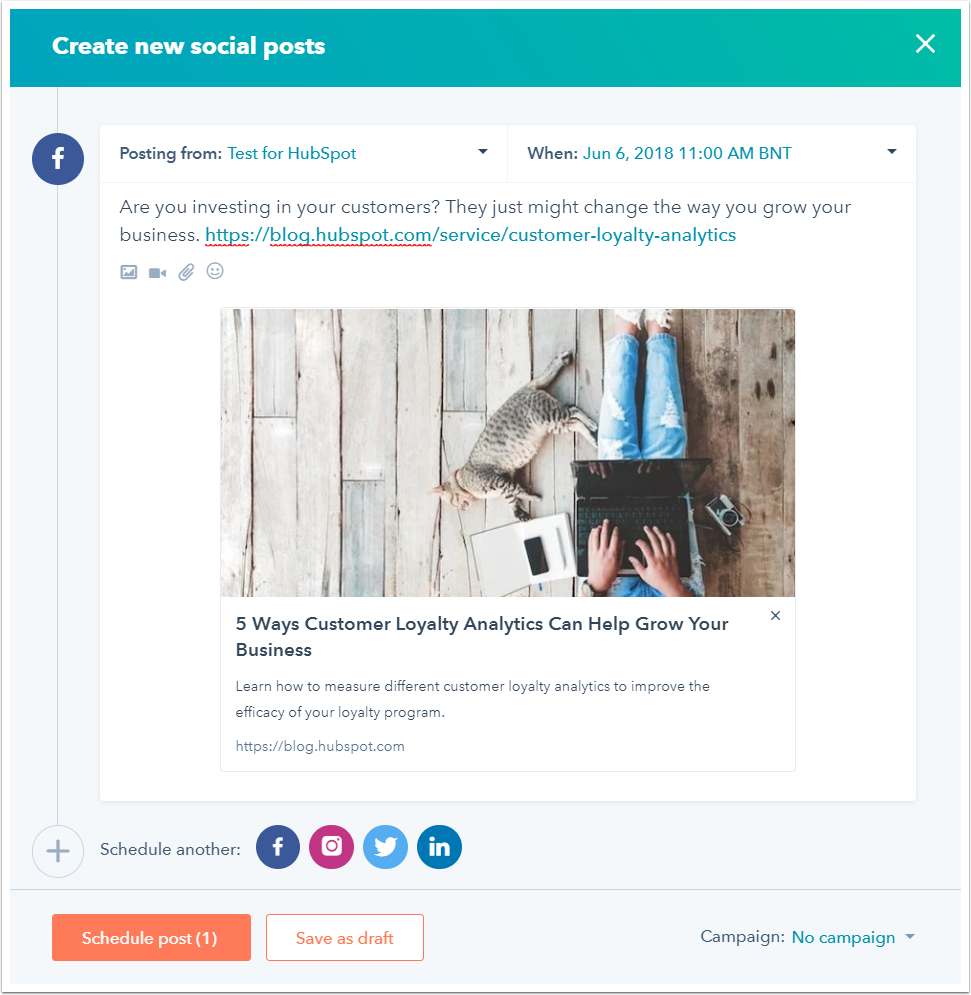 Please note:
Instagram

does not

support links in posts.
By default, the HubSpot social tool will

shorten links in your social post

to a

hubs.ly

link. If you own a branded short domain on Bitly, you can connect your Bitly account to HubSpot to use your branded short domain for links in social posts.
You cannot use custom tracking URLs in social posts published through HubSpot. HubSpot automatically adds tracking parameters to posts published through the social tool to track traffic back to the original post.
To insert an image, click the

image

icon

insertImage:




You can select an existing image in your file manager, or click

Add image

to upload a new image from your device or a URL. You can adjust the image's optimization settings before inserting the image into your post.

To use a stock image from Shutterstock, click into the

search bar

and enter a search term, then press the

Enter

key and click the

Stock images

tab. Click an

image

to review its details, then click

Insert

to add it to your social post.

If you're posting to Facebook or Twitter, you can post up to four images in one social post. Click

the

image icon

insertImage

again to insert another image.

If you're posting to Facebook, Twitter, or a LinkedIn Company Page, you can insert a video by clicking the

video icon

insertVideo

. You can select an existing video in your file manager, or click

Upload videos

to upload a new video from your device.

Please note:
Images or videos must be posted with accompanying text in the social post.
If you have a content link in your social post, any images or videos inserted into the post will replace the image generated in the post preview.
Images and videos must be uploaded in one of the following formats: png, jpg, jpeg, gif, mp4, avi, mov, mpeg4, mp4, or m4v.
Animated GIFs

will

play on Twitter, and

will not

play on Facebook, Instagram, and LinkedIn.
Video uploads cannot exceed 20 minutes in length.
The composer will automatically select a publish date based on your social publishing schedule, but you can change the date by clicking the When dropdown menu. You can select a specific date and time, or click Publish now to publish the social post immediately.
Lastly, select a HubSpot campaign to associate the social post with. In the bottom right, click the Campaign dropdown menu and select a campaign or click Create a new campaign.
Once you've finished setting up your social post, you can choose to publish another post or publish to another social account by clicking the corresponding social icon next to Schedule another. This will automatically duplicate your existing post content into the new post.

In the bottom left, click

Schedule post

or

Publish post now

to schedule it for publishing or publish it immediately, depending on the publish date and time you selected.
Please note: the social network will display the name of the user who connected the social account to HubSpot as the post creator. This is because HubSpot publishes the post to the social network using their credentials.
If you're a Marketing Hub Professional or Enterprise user publish a post to Facebook, you can boost the Facebook post to reach a wider audience. Learn how to create an ad from a Facebook social post.