HubSpot billing and payment | Frequently Asked Questions
Last updated: October 13, 2020
Find answers to common questions about billing information in your account.
Billing and payment questions
Where do I find my invoices and payment receipts?
At the start of your billing cycle each month, you'll receive an invoice in your account. If your contract is established on invoicing terms, an email with your invoice information will also be sent to the billing contact of your account. Upon making a payment, a receipt will be sent to the billing administrator of your account.
You can also view your invoices and receipts within your HubSpot account. Learn more about where to find and download your invoices and receipts.
When will my card be charged?
For Sales Hub, Service Hub and Marketing Hub Starter accounts, credit cards are charged when payment information is entered. After that, for Marketing Hub Starter or Sales Hub Starter and Professional accounts, your billing cycle will close on the same day of the month as your first payment.
If you are a Marketing Hub Professional, or Enterprise customer, please contact your Customer Success Manager for more information. If you are unsure of your Customer Success Manager's contact information, reach out to HubSpot Support by clicking the Help button in the bottom right-hand corner of your account.

Who can update billing information?
Anyone with Modify billing & change name on contract permissions can view and update billing information. When adding new payment methods, admins have the option to share the method with other admins in your account. If they have not done so, only that user can make changes to the payment method, but other admins can view the information. If the payment method is shared, any user with access can make changes.
Learn how to make changes to your billing information.
Please note: if you want to change your contract from invoicing terms to credit card terms, or vice versa, please reach out to your Customer Success Manager.
How do I change which user receives our invoices?
In your HubSpot account, click your account name in the top right corner, then click Account & Billing.
At the top, click the Company info tab.
In the Role section, the user who receives invoices will appear in the Billing contact dropdown menu. To change the billing contact, click the dropdown menu and select the new user who

should receive HubSpot billing and renewal information.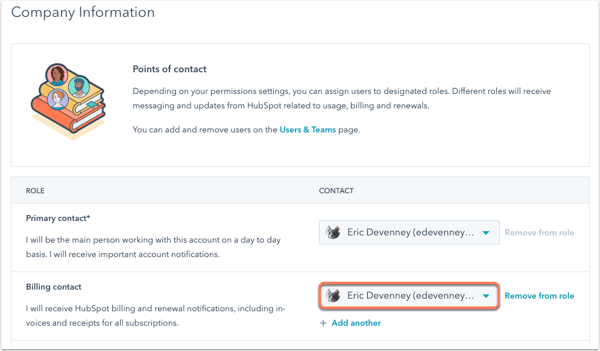 Is my credit card information secure?
Yes. HubSpot Sales uses a third party (Zuora) to process all credit card payments. HubSpot does not have access to your credit card number at any point. For more information about the strict security measures that Zuora uses, please see the Zuora Security Page. HubSpot, Inc. is a Trust-E certified company and compliant with the EU-U.S. Privacy Shield.
What should I do if I am tax/VAT-exempt, but was charged tax/VAT?
As per HubSpot's Terms of Service, if you are located in the European Union, all fees are exclusive of any VAT and you represent that you are registered for VAT purposes in your member state. At our request, you will provide us with the VAT registration number under which you are registered in your member state. If you do not provide us with a VAT registration number prior to checkout, we will not issue refunds or credits for any VAT that was charged.
Account and subscription questions
When are my contacts counted for billing purposes?
When you reach your contact tier limit, you'll be upgraded into the next tier in your next billing cycle. See our Customer Terms of Service for more information.
You can find details about your product subscription in your Account & Billing settings:
What happens if I change the number of seats in my Sales or Service Hub subscription?
If you add a seat to your HubSpot Sales Hub or Service Hub account, you will immediately be able to assign a user to the new seat. Your account will be billed at a prorated amount on your next bill date. For example, you are billed on the 25th of every month for a total of 5 paid users and on the 7th of the month you buy an additional seat. For that billing period, you will pay a prorated cost from the 7th-25th for the additional seat, along with the normal rate of the 5 users.
If you remove a user's access to the paid tools, the seat will still exist for your flexibility of use and you will continue to pay for the seat. To stop paying for the seat and delete the seat during your renewal process, ensure you reach out to your Customer Success Manager or Team to inform them.
Learn how to manage your paid users in HubSpot.
What happens if I cancel or downgrade my account?
If you cancel or downgrade a paid subscription, you will continue to be charged for the duration of the commitment length in your contract, which may differ from your billing frequency. The commitment length is the period of time that you've agreed to use and pay for a subscription; the billing cycle is how often you have agreed to make payments within that time period.
For example, if your contract has a 12-month commitment term with a monthly billing cycle and you decide to cancel your subscription after eight months, you will continue to be charged monthly until the end of your 12-month commitment term. See HubSpot's Customer Terms of Service for more information.
Who should I contact if I have billing-related questions about my account?
If you have specific billing-related questions regarding your HubSpot account, you can send an email directly to HubSpot's billing team at billing@hubspot.com.
General marketing account questions can be directed to your Customer Success Manager. If you do not have your Customer Success Manager's contact information, contact support by clicking on the Help button in the bottom right corner of your HubSpot account.
Table of contents
/account/billing-and-payment-faqs