AMP, or Accelerated Mobile Pages, is a mobile-specific page format that loads content nearly instantaneously. In order to load quickly on mobile, the Javascript files, stylesheets, HubSpot forms, head HTML and footer HTML will not render in the AMP version of the page.
When reviewing the performance of your individual blog post, you can see a breakdown of engagements based on if the post was viewed based on whether the AMP or standard version of the post was viewed.
In HubSpot, there are two-ways to set up AMP:
Please note: Currently, AMP is only available for HubSpot blogs and blog posts, not for landing pages or website pages.
Apply AMP across all your blog content
If you are interested in applying AMP across all your blog posts, please follow the steps below to get it set up.
In your HubSpot account, click the settings icon

settings

in the main navigation bar.
In the left sidebar menu, navigate to Website > Blog.
Select the Google AMP tab.
Switch the Enable Google AMP formatted pages toggle on.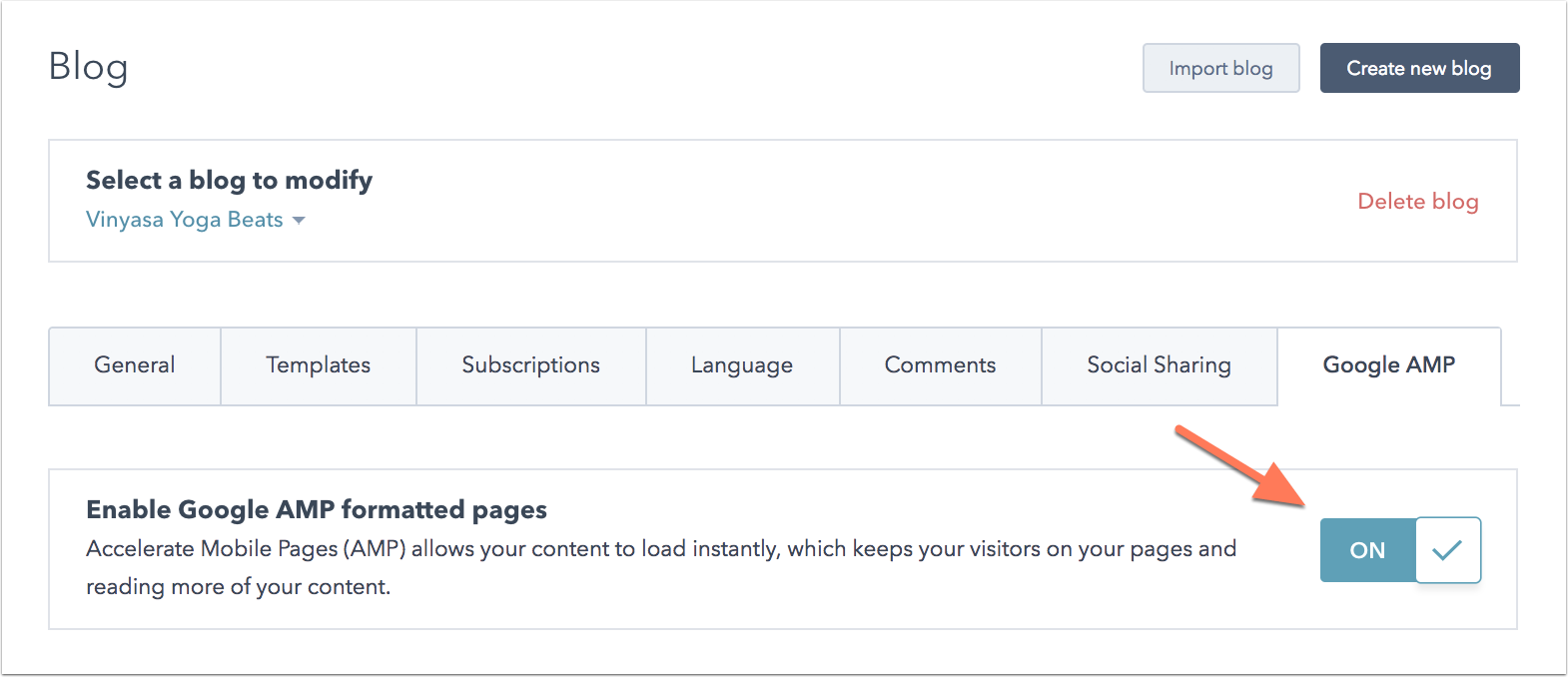 Once AMP is enabled, HubSpot will validate each blog post for your blog template, and the next time Google crawls the blog post they will cache the AMP version. If there are errors with the AMP version, Google will send you an email directly to let you know.

Also once AMP is enabled, this Google AMP section will have a number of options that can be customized including logo, font, and font colors.
Apply AMP only to specific blog posts
If you would like to set up AMP for specific blog posts, follow the steps below.
Please note: this option is only available if AMP is not enabled in your blog settings.
In your HubSpot account, navigate to Marketing > Website > Blog.
Hover over the blog post you want to edit and click Actions then select Edit.
Click into the Publish or Schedule tab from that blog post.
Within the Google AMP section, select the Enable Google AMP just for this blog post checkbox.
Click Update or Publish to take your changes live.
Once this is enabled, HubSpot will validate this specific blog post and the next time Google crawls the blog post they will cache the AMP version. If there are errors with the AMP version, Google will send you an email directly to let you know.


Please note: views of AMP-enabled content will not be tracked on a contact's timeline because AMP blocks the JavaScript included in the HubSpot tracking code.