To add an image to a rich text module in HubSpot:
In your HubSpot account, navigate to blog, email, landing pages, or website pages.

In the dashboard, click the name of the blog post, email, landing page, or website page you'd like to edit to access the content editor.

Click the rich text module where you'd like the image to appear.
In the rich text toolbar, click the Insert dropdown menu and select Image or click the image icon

insertImage.
In the pane on the right, select an image from your Recent images, search for an image in the search bar at the top, or click Browse folders to look through files in your file manager. You can also click Add image at the bottom of the pane to upload a file or add a file URL.
Please note: only png, ico, bmp, jpg, and gif image file types can be embedded in marketing emails.
Once your file is inserted in your rich text module, click the image to make edits to its alignment, size, or alt text.

On the Content tab, add your alt text to your image in the Alt text field. This description tells search engines what your image is about.
On the Style tab, enter a pixel size into the Width and Height fields to adjust the size of your image. Choose an Image layout to pick how your text aligns and wraps around your image. If needed, adjust the Spacing around your image.
You can also use the Link options to add a link to your image.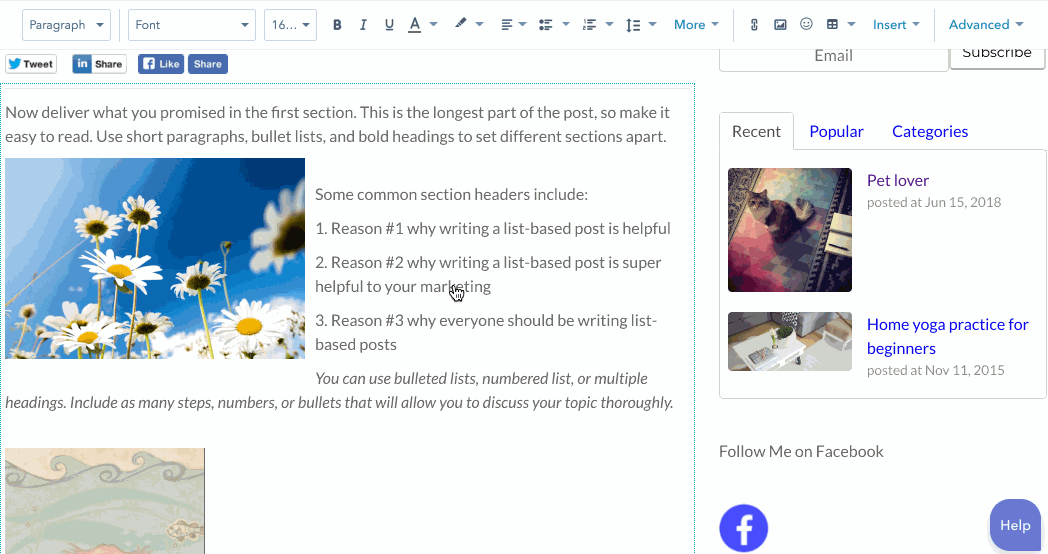 Make additional changes to your content as needed, then click Publish or Update to take your changes live, or click Save to save your changes in draft.
To remove an image from a rich text module, click the image, then click Remove or press the Delete/Backspace key on your keyboard. To replace the image, follow the instructions above.