HubSpot's Publishing tool gives you the option to post now, post at a custom time, or post based on a publishing schedule. By default, the publishing schedule includes three times per day, where social media traffic is generally high.
In addition, you can create a custom publishing schedule in your HubSpot social media tool that will allow you to more easily schedule your messages for times that are the most beneficial for you, your business, and your network.
First spend a few weeks gathering data around what times of day you're generating the most clicks and social media message interactions. This will make it much easier to use this guide to set up your own custom publishing schedule.
How to discover your company's optimal publishing times
Follow these steps to learn how to use HubSpot's social media tool to research the optimal times to schedule your messages, and then set up your custom publishing schedule to use those prime times.
1. Go to your Social Media dashboard
Go to Social > Publishing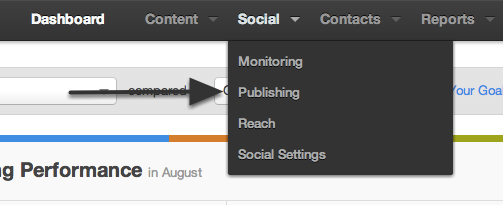 2. Filter by published messages across all networks and campaigns
First, you'll need to research the best times to schedule your messages. Once you're on the Social Publishing page, leave the network filter and campaign filter on "all".
3. Sort your messages by clicks
Select the Clicks column header at the top of the messages data table to see how many clicks each post received.
4. Record the time of day on which your messages were published
Look at the Published column of the social media messages table to see the date and the time of day that each message was published on. Write down the publishing times of the ten most frequently clicked messages so that you can determine what time of day works best for you.
5. Browse for the messages with the most interactions
While you're still sorting through your clicks, scroll through your messages to find the ones that your network found most engaging. This would include messages that have a lot of replies, likes, comments, or were marked as a favorite. Write down the publishing times of the ten messages that have the highest level of engagement and clicks.
6. Go to Publishing Schedule
Next, you'll need to set up a publishing schedule. Below the Social Settings header on the left side of the screen to access the Publishing Schedule tool.
7. Add your preferred custom time to the schedule
Using the publishing times that you wrote down in the previous steps, enter a time that you have had success with in the past.
Select which days of the week you would like your time to apply to. When you're done, click Add Time.
You'll then see your selected times and days appear on the chart. You can delete a time by clicking on the X next to the time.
8. Verify your Time Zone settings
Navigate to Reports > Reports Settings.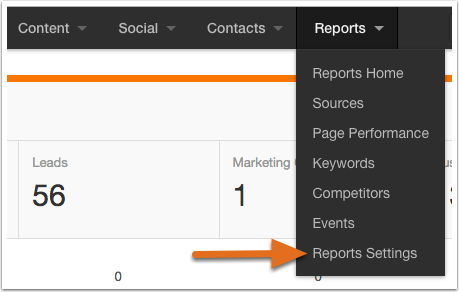 From this area, choose Time Zone in the left-hand side menu to ensure your time zone it set correctly and the publishing schedule is localized to your business hours.
Verify that your time zone is correct, or change it if necessary. Select Save if you made any changes.

Next Article: How to upload social media messages in bulk for scheduled publishing