A pillar page is a comprehensive landing page that covers a topic in depth. A traditional landing page may have a few hundred words and a form to download a resource. By comparison, a pillar page generally has a few thousand words and includes other media types, such as images and video, to describe and explain the topic in greater detail.

The pillar page is the content associated with the core topic. It should be the canonical source of information on that topic, linking to the content for all subtopics. Generally, a pillar page:

Has high-authority and is getting a lot of organic traffic already.

Is hosted on a URL where the core topic is included.

Is not locked behind a form, so all this content is available for visitors to find the answers they're looking for and for search engines to crawl.
Throughout the page, conversion points assist your visitor in getting more information from your company about the topic, helping you get leads from that page. For example, we recommend ungating an ebook on the chosen core topic to kick-off the creation of a pillar page if there isn't a page already that would be a good fit. You can see examples of pillar pages by navigating here, clicking the Type dropdown menu, and selecting Pillar Page.
To create a pillar page:
In your HubSpot Marketing Hub Basic

,

Professional

, or

Enterprise

account,

navigate to

Content

>

Strategy

.
Click the topic cluster name you wish to add a pillar page to.
Once in the topic cluster editor, click Add pillar content. In the right sidebar click + Create a landing page.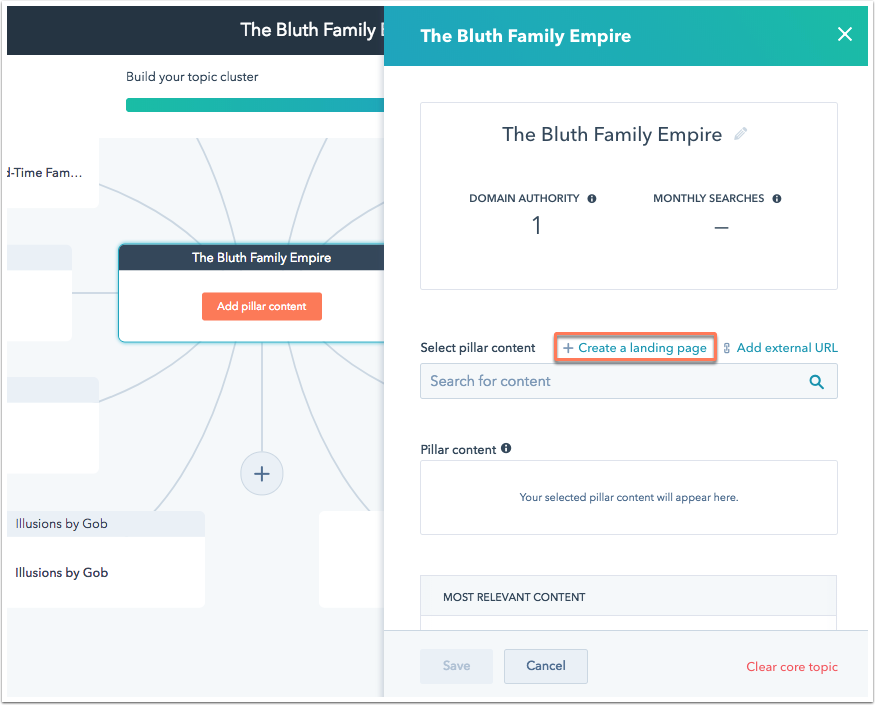 In the dialog box that appears, type in your pillar page's name and click Done.
Once you hit Done, your pillar page will appear as a draft landing page in the right-hand sidebar. Click the name of your landing page to edit your new pillar page. Be sure to click Save to update the topic cluster with your new pillar page.
Proceed to create your pillar page as you would any other landing page.

If you decide to save your edits and finish up later, y

ou can retrieve the page in your topic cluster editor or under Content > Landing Pages in your Draft section.
Once you save or publish your pillar page, it will appear at the center of the topic cluster as well as under Content > Landing Page in your Published section.