In the content strategy tool, there are metrics provided to help you research the best topics and subtopics for the best SEO results. These metrics come from a combination of sources:
Domain authority (topic only) is calculated using Moz and is a prediction of how well your content will rank on search engines. It's measured on a logarithmic scale of 100 points.
Monthly search volume is calculated using SEMrush and is the average monthly searches for a keyword in search engines.
Difficulty is a

n estimation of the difficulty you will face breaking into the front page of search results for this topic. This score is measured on a 100 point scale, meaning it's easier to see success with topics that have lower scores.
Topic similarity (subtopics only) is calculated using HubSpot propriety machine learning and measures the similarity of your subtopic to your topic on a scale of 0 to 100%. The higher your percentage, the more closely related your subtopic is to your topic.
You'll see some of these metrics when researching new topics to create. You can also see these metrics for a specific topic or subtopic you've created:
In your HubSpot account, navigate to Marketing > Planning and Strategy > Content Strategy.
Click the name of a topic in the dashboard.
Click into a subtopic bubble or the topic bubble. The validation metrics will appear at the top of the pane.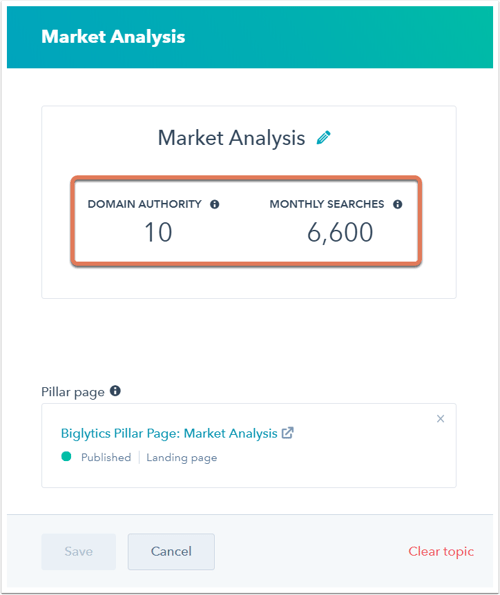 Why do my validation metrics read No data?
If your subtopic validation metrics don't populate with any data, it could be due to the following reasons:

Moz (domain authority) or SEMRush (monthly search volume) doesn't have any data for this metric.
The topic is set to a country that doesn't have any search volume for the topic. For example, if you have a language-specific topic but your topic is configured for a country that does not speak that language, you may not have any search data. You can see locales available for monthly search volume and subtopic suggestions from SEMrush databases.
The topic is specialized enough that HubSpot's machine learning model doesn't yet have data available for relevancy and topic similarity. This is more common for non-English topics that are not easily translated, as HubSpot's core machine learning models are based in English.