To add a slide to one of HubSpot's Image Slider modules:
Navigate to Content > Website Pages or Landing Pages.
Locate the page you'd like to edit, then click the gear icon to the right and select Edit.
Hover over the Image Slider module and click to show the module's options.
Click the blue Add slide button.
Choose the image you'd like to insert as a slide and click Use Image.
Once your slide has been inserted, you can add Alt text and choose to show a caption.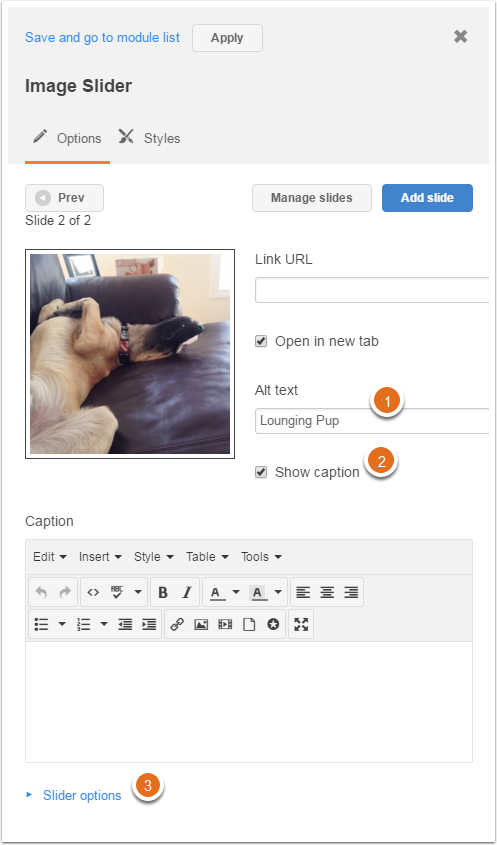 Click Slider Options to further customize the settings for your image slider.

Slideshow: check this box to set your slider to automatically move between slides. You can customize the number of seconds between slides once this box is checked.
Loop slides: check this box to automatically repeat your slides.
Show pagination: check this box to add indicators to the bottom of the slider to show visitors how many slides there are and which one they're currently viewing.
Transition: choose which visual effect (Slide or Fade) you'd like to see when transitioning between slides.
Display Mode: choose which type of slider you'd like to appear on the page. You can choose a standard slider; a slider with thumbnail images for your visitors to navigate between; or a lightbox gallery, which allows users to click on a thumbnail to open a lightbox and navigate between the full size version of your slides.
Sizing: choose whether you'd like your slider to remain as tall as the tallest slide or resize automatically with each image.
Caption Position: if you choose to show captions on your slides, choose whether you'd like these captions to be superimposed on top of your images or displayed beneath the images.
Click Save and go to module list in the top left-hand corner of the image slider options pane.
Click Publish or Update to take your changes live.
Related articles: