Tracking URLs are incredibly useful devices that allow you to determine the effectiveness of your marketing campaigns. You should use tracking URLs when you're directing traffic to a landing page from somewhere other than a call-to-action on your own site, like an email blast, PPC campaign, banner ad, and so forth.
*Note: If you are using HubSpot to send your email blasts and/or lead nurturing campaigns, you don't need to create tracking URLs for the links in these emails. It automatically happens for you, like magic. MAGIC.
This article will walk you through how to create and implement tracking URLs.
1. Understand what a Tracking URL is
A tracking URL is a normal URL with a "token" attached to the end of it.
Normal URL: http://www.hubspot.com/inbound-marketing-assessment-product/
Tracking URL (token is bolded): http://www.hubspot.com/inbound-marketing-assessment-product/?utm_campaign=examples-assessment
When visitors come from a tracking URL, HubSpot's Sources tool sees the token and separates that traffic out so you can see how well it performed. This is what the tracking token "hscm-facebook-ad-master-facebook-10-days-20121101 " looks like inside Sources once traffic is piping through it:
2. Create a Tracking URL for a landing page
A landing page is the most common page to use a tracking URL for. Go to Reports > Reports Home.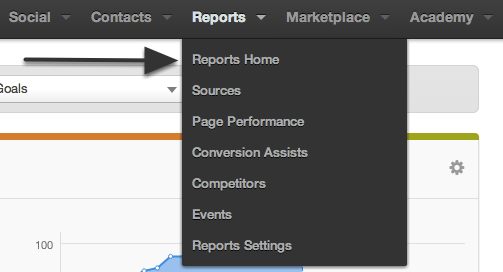 Tracking URL Builder
Scroll down and click Tracking URL Builder in the side menu.
Create a New Tracking URL
You'll then be able to create a tracking URL. Select Create a New Tracking URL.
Landing Page URL
Add the URL of the page that you would like to link to. This will be automatically populated based on the landing page you selected.
Campaign information
Scroll down and fill out your Campaign Information.
Campaign Name - This is visible to your website visitors in your URL. Use a string of text that reminds you what campaign this traffic source is associated with. Use dashes to separate words in the string.
Campaign Source - Specify where this URL is being used. This is critical for assigning these URLs to a segment in your Sources report. For example, if you're using the URL an email, type "email" if you want Sources to recognize it as such. If you're using it in a paid search ad, type "ppc." This way, this traffic will appear in the Email or Paid Search segment of Sources, respectively, rather than Other Campaigns.
Campaign Medium - This is typically the last visible parameter in your tracking URLs that you build in HubSpot. The medium is used in the HubSpot sources drilldown for a specific source type.
Please note URL and referral rules for visits are case sensitive and may require lowercase utm parameters to be bucketed correctly. For more details on these rules please click here.
Marketing Action Information
These are like post-its for your analytics. Scroll down and name your event, then select the date the campaign is launching. It will appear as a Marketing Event within the Sources report, so you can see why there were spikes in traffic/leads on a certain day. This is completely hidden to your website visitors, so go nuts.
Once you fill out each of the fields above, click Generate URL HubSpot will then generate a new tracking URL for you.
3. Implement Tracking URL
Copy the Tracking URL that appears, and use that as the hyperlink in your email, your Google Adwords destination URL, your banner ad, etc. You can choose from the shortened link (perfect for social media) or the full tracking link for other purposes like Google Adwords. You can also generate another URL right from this screen by selecting Generate Another.
4. Share your Tracking URL
Copy the short link from the Shortened Tracking URL box.
LinkedIn post
Now share your link y going to an external location of your choosing and placing your link there. In our example, a good place for this link would be a LinkedIn Group post.
5. Look at your results
Head over to your Report > Sources > Social Media and click on the LinkedIn to see how your tracking URLs are performing.
Campaigns
Scroll down the page to see how many visits/contacts/customers you're seeing from individual tracking URLs.
6. Manage your Tracking URLs
Once you've created some Tracking URLs, you can easily filter by campaign and campaign source on the main screen.
You can also sort by Create Date and search through your URLs using the search bar.
Shortened Tracking URL
On this main page, you can access the shortened and full URL and copy it right from there by highlighting the link.
Delete a Tracking URL
To delete a Tracking URL, select the gear icon and Remove From List.
7. Create a Tracking URL for ANY page on your site (OPTIONAL)
Although you'll most commonly use tracking URLs to track traffic to landing pages, there may come a time when you'd like to track clicks to a blog post, your homepage, or some other page on your site from a specific source. Navigate back to your Tracking URL Builder and select Create A New Tracking URL.
Fill out the same fields as instructed above, and also enter the URL of the page that you are linking to.
Next Article: How to A/B test landing pages