In the Optimize panel, you'll see a checklist of recommendations for how to improve your email's content, deliverability, and send time.
Please note: the email optimizer won't provide suggestions for emails created with a coded HTML template.
In your HubSpot account, navigate to Marketing > Email.

Hover over an existing email draft and click Edit, or create a new email.

On the left side of the content editor, click the bar graph icon to expand the Optimize panel. You'll see a list of recommended To-do items, and a list of items that are already Done.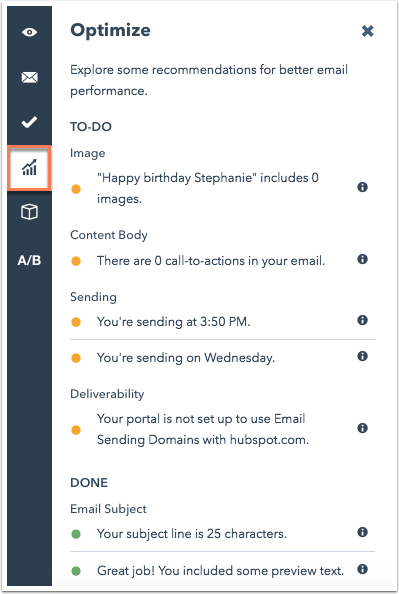 Hover over the information icon

info

to see a tooltip with more details for each recommendation. You'll see details about the following:

Deliverability best practices, such as connecting your email sending domain and customizing your SPF records.
What day and time the email should be sent based on data from previously sent emails. If your account doesn't have enough email data to calculate an ideal send time, the optimizer will provide general recommendations based on email data from all HubSpot customers.
Content to include in your email, such as personalization, CTAs, images, and links.