The email optimizer gives advice on optimizing email right within the tool. This view includes a list of email best practices to incorporate into emails before sending.
Here are a few ways to use the tool:
Use the email optimizer as a checklist to make sure all of the important email optimization recommendations have been hit, including configuring your email sending domain.
Give recommendations for when the email should be sent based on data. If your account has enough data, the email optimizer will pull in personalized suggestions for sending days and times. If not, the Email Optimizer will provide customer averages.
Reminders about features to incorporate into your email, such as personalization, CTAs, etc.
To use the email optimizer:
In your HubSpot account, navigate to Marketing > Email.
Click on the name of an existing email draft, or click Create email to create a new email.
From the left side menu, click the Optimize icon.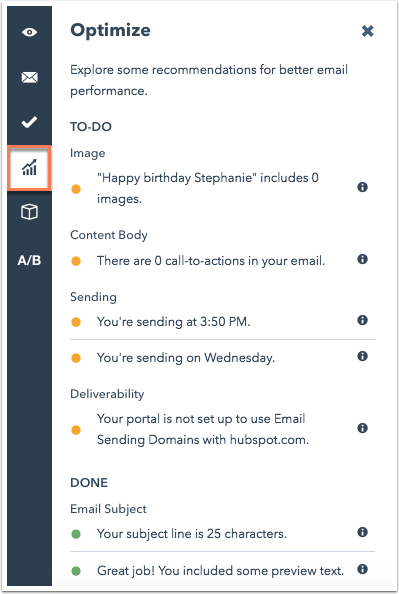 In the Optimization pane, you'll see a list of To-do items to further optimize your email, as well as a Done list to confirm what your email is already doing well. You can hover over the information icon

info

to see a tooltip with more details about the recommendation for each list item.