After you've finished creating your content, use the optimize tool to improve your content's authority in search engines. Linking

subtopic keyword content back to your pillar page establishes authority for your topic in search engine results

. Learn more about how the SEO tool can improve your content strategy.
In your HubSpot account, navigate to your blog, landing pages, or website pages.

Hover over an existing page or post in your dashboard, then and click the Actions dropdown menu and select Edit.

On the left sidebar panel, click the bar graph icon to open the Optimize tool.
In the upper left, click the Core Topic dropdown menu and select a topic.

If you don't have a topic related to this page yet:

Select Add core topic.

Enter the name of your new SEO topic.

Click Save.

If this content is your topic's pillar page, click Attach to topic. If this is support content for a subtopic keyword:

Select the Is this supporting content? checkbox.
Click the Subtopic keyword drown menu to select a subtopic keyword. If you don't have a subtopic keyword related to this page yet, select Add subtopic keyword. Enter a subtopic keyword and click Save.
Click Attach to topic.
After you've made your selections, the Optimize panel will update with keyword suggestions to improve your content for search engines.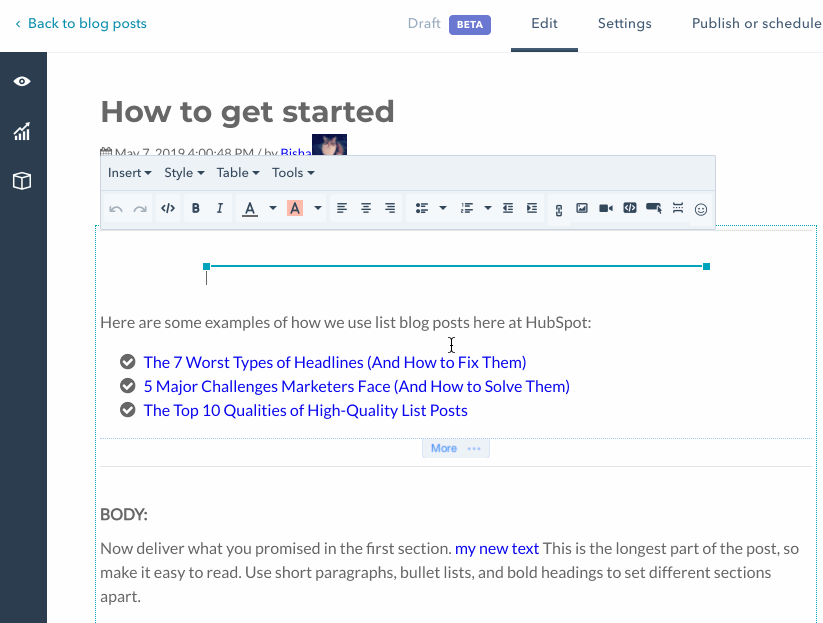 To edit the topic or subtopic keyword your content is attached to, click the X next to the topic or subtopic keyword at the top of the Optimize panel.