When sending marketing emails, you can use the Signature personalization token to display the contact owner's own signature - pulled from their profile settings - at the end of your email. To create a custom signature, you must have Sales access in your user permissions set.
Please note: each contact owner can customize their own signature. You may not compose a signature for other contact owners.
In your HubSpot account, navigate to Marketing > Email.

Click into the body of your email. Place your cursor where you want to insert the signature token, likely at the end of the email. In the upper right section of the rich text toolbar, click Personalize.

Click the Token dropdown menu. In the search box, search for Contact owner then select the Contact Owner option.

In the User property dropdown menu that appears, select Signature. In the event a contact recipient does not have an owner and you do not wish to end the email without a signature, you can set a default user for the Contact owner property in your email content settings.
Click Insert.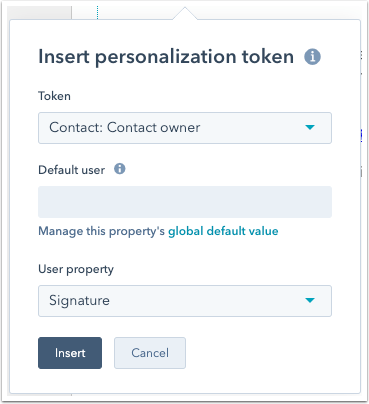 Please note: when sending a test email you will need to use the Receive email as a specific contact option to preview this functionality.