Add your HubSpot certification to Upwork so that it displays on your Upwork profile.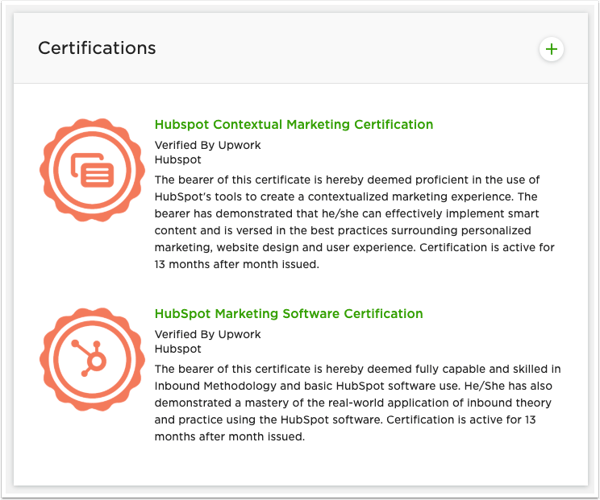 The certifications that can currently be added to Upwork are:
HubSpot Marketing Software Certification
HubSpot Contextual Marketing Certification
HubSpot Agency Partner Certification
HubSpot Inbound Certification
Please note: as of June 2020, the 2017 version of the Inbound Certification is out of date and cannot be added to Upwork.
To add a certification to your Upwork profile:
In your HubSpot account, click your account name in the top right corner, then click HubSpot Academy.
At the top of the Academy dashboard, click the My learning tab.


In the left sidebar, navigate to Completed. Your completed courses will display on the right.
Click View certification on the certification you want to add to Upwork.


At the bottom of the certification, click Add your certificate to your Upwork profile. This will take you to Upwork's documentation which walks through how to add the certificate in Upwork. You will need to log in to your Upwork account to complete this.


In HubSpot, click Send the certificate to Upwork. This allows Upwork to verify the certification after it's been added to your profile.
After verification, the certificate will appear on your Upwork profile.