After creating your contact-based, company-based, deal-based, ticket-based, or quote-based workflows and turning them on, you can view your workflow history to see events that occurred in the workflow. In company, deal, ticket, and quote-based workflows, you can also view the workflow version at the time of individual events.
In your HubSpot account, navigate to Automation > Workflows.
Click the name of a workflow.
Click the History tab.
Here, you can view all the events that have occurred in the workflow. The events are displayed in reverse chronological order, with the most recent events appearing at the top. The table displays:
By default, the workflow displays events over all time and all types. In the upper left, click the dropdown menus to filter the events:
In the upper right, use the search bar to search for a specific object. If the object is currently enrolled or has ever been enrolled in the workflow, you can view all workflow events that occurred to the object.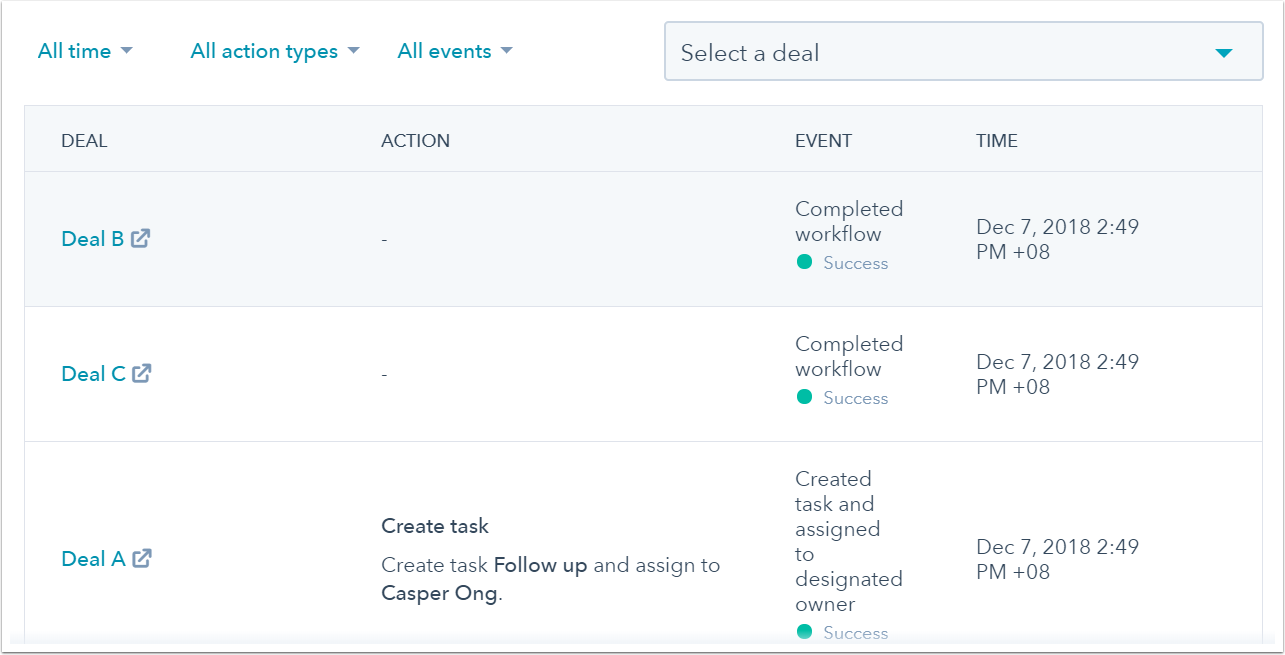 In company, deal, ticket, and quote-based workflows, you can hover over an event to unenroll an object from the workflow or see the version of the workflow at the time of the event. To see the workflow revision at the time of an event:
Hover over an event, then click Event details.


Click the Timestamp under Workflow revision at time of event. This timestamp reflects when the workflow was revised. You will also see the user who changed the workflow underneath the timestamp.
On the workflow revision screen, view the enrollment conditions and actions set in the workflow in that version. You can click the enrollment triggers and action boxes to view the details of that version. The workflow cannot be edited from this view.
Please note: workflow settings such as unenrollment and suppression aren't included in revision history. Revisions are read-only and can't be restored.

To return to the previous screen, click Back to history in the upper-left, or click Back to workflows to return to the workflow dashboard.