After you've finished creating your content, use the optimize tool to improve your content's authority in search engines. Well-organized content with relevant links will give you
the best chance of being found by your target market.
Attach your page to a topic
Click the Core Topic dropdown to select a topic. If you don't have a topic related to this page yet, select Add core topic. Enter the name of your new SEO topic and click Save.
If this content is your topic's pillar page, click Attach to topic. If this is support content for a subtopic keyword:

Select the Is this supporting content? checkbox.
Click the Subtopic keyword drown menu to select a subtopic keyword. If you don't have a subtopic keyword related to this page yet, select Add subtopic keyword. Enter a subtopic keyword and click Save.
Click Attach to topic.
After you've made your selections, the Optimize panel will update with keyword suggestions to improve your content for search engines.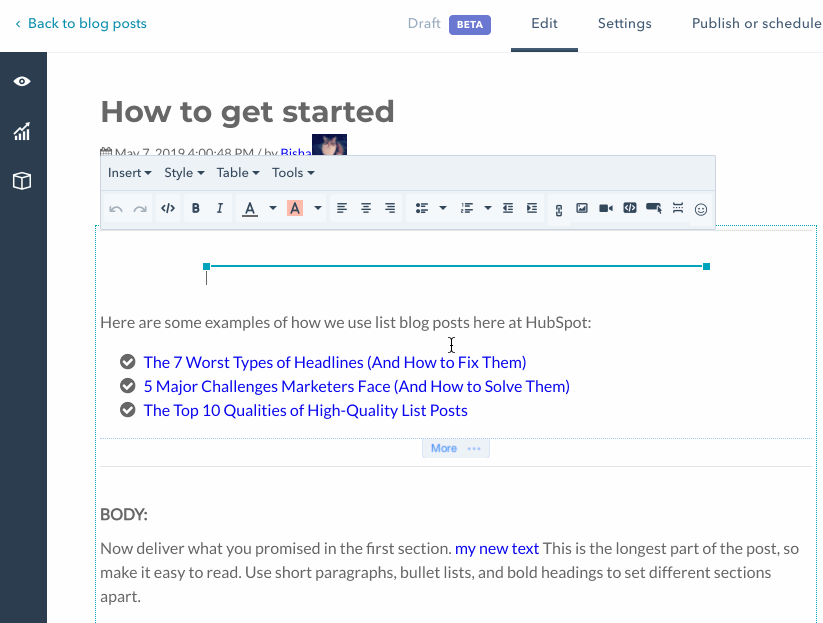 To edit the topic or subtopic keyword your content is attached to, click the X next to the topic or subtopic keyword at the top of the Optimize panel.



Optimize your content
Below your content's topic information is a To Do list with recommendations to optimize your content for search engines. Recommendations are listed in order of how much they can impact SEO. Click a recommendation to expand more details.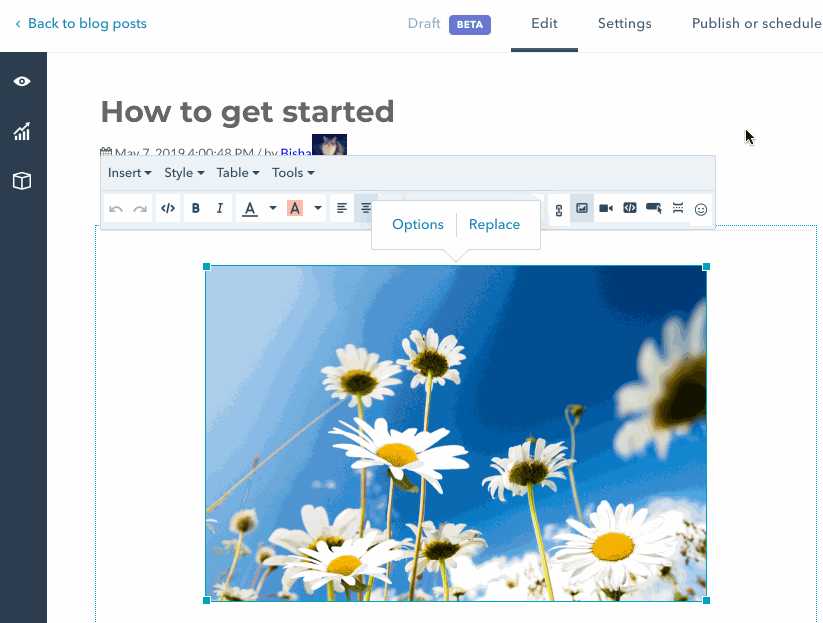 Recommendations are populated by a HubSpot crawler that reviews the HTML markup of the page for the following:
H1 tag: your page should contain exactly one H1 tag to make it easier for search engines to know what your content is about.
Image alt text:

adding

alt text makes your images accessible to visitors who use screen readers and helps SEO crawler read your page.

The alt text should match the file name, without dashes, e.g. Inbound Marketing Software.

Inbound links: search engines give more authority to pages with inbound links from

authoritative and relevant external

websites.


Please note: for an inbound link to be detected, it must be clicked by at least one visitor so that it's included in your page's referral traffic. The link must be within the HTML of the page, not loaded over JavaScript (e.g.,a button that triggers a script to load your page).
Internal links: each page or blog post should contain a link to your pillar page. The Optimize tool will also scan your content for any broken links. The internal link must be within the HTML of the page, not loaded over JavaScript.


Please note: for an internal link to be detected, it must be hosted on the same subdomain as the URL of the page you're scanning. This subdomain must be a tracked domain in your reports settings. The tool can't detect internal links between your pages if there's a redirect set up between the two links, or if there's a query string appended to the URL.

Number of images: good content contains a mix of written content and images. There should be no more than 50 images on a page.
Number of links: good content contains links to quality internal and external resources, while too many links make your content appear less reputable. There should be no more than 100 external links on a page.
Page title: the page title appears as the blue, bolded, underlined text on a Google search results page and across the tab of your web browser

.

Your page title should be less than 70 characters, and e

ach page title on your website should be unique. It's recommended to feature your subtopic keyword or topic phrase in your title.
Subtopic phrase: content attached to a subtopic keyword should feature that phrase and related keywords in the content and meta description.
Word count: each page or blog post should contain at least 330 words. T

o improve your site's ranking with search engines, your content should contain keyword phrases and original content. Keep in mind that these are general guidelines, so it's OK if your word count is lower for certain pages (e.g., a Contact Us page).