When sending a HubSpot marketing email, you can use the Time Zone Send feature to schedule your email for a specific time in your recipients' own time zone. This means the email will be sent in batches based on the recipients' IP time zone property value on their contact record. Any contact without a value for this property will receive the email in your account time zone.
Please note: this feature is only available in the Classic editor when sending a regular marketing email. You cannot schedule emails based on recipient time zones in the Drag and drop editor or when conducting an A/B test for your email.
In your HubSpot account, navigate to Marketing > Email.
Click the name of the email to schedule.
With the email ready, click the Send or schedule

tab.

From here, click Schedule based on time zones, then select the date and time from the dropdown menus that appear.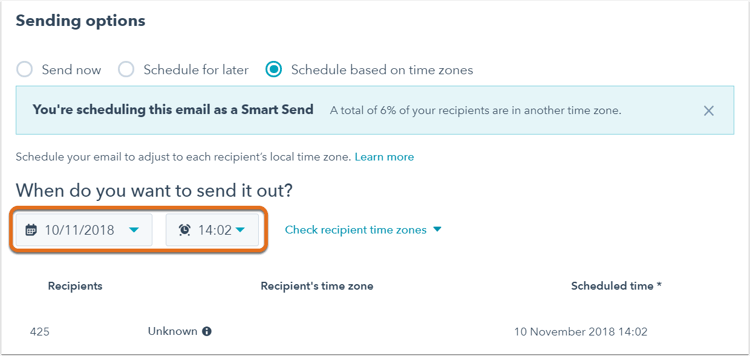 After selecting a date and time, click Check recipient time zones to see when your emails will be sent to your recipients based on their time zones. The Scheduled time column is based on your time zone.
Click Schedule in the top right.
Your email has now been successfully scheduled to send to your recipients in their own time zone. On the post-send details screen, click the Time zone dropdown at the top of the page to view the email's performance for recipients from a specific time zone or for all time zones at once. You can also analyze your email's performance across time zones by clicking the Time zones tab.
Please note: once a smart send email has been scheduled, you cannot add more recipients to the initial send from the post-send details screen. Instead, click Clone to duplicate the email and choose another set of recipients.