Export your overall email performance data or recipient data for a specific email. Learn how to analyze the basic or advanced email data from a specific sent email.
Export overall email performance data
In your HubSpot account, navigate to Marketing > Email.
In the upper right, click

download

Export emails

.
In the dialog box, click the

File format

dropdown menu and select the file format for the download.
Under

Export type, select All emails or Emails sent within a custom date range. For a more detailed report, select the Include advanced report data checkbox.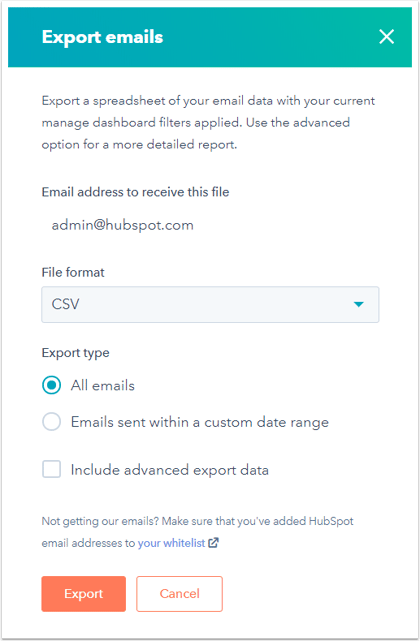 Click Export

. You will

receive an email with a download link to the export file.
Export email performance data for a specific email
In your HubSpot account, navigate to Marketing > Email.
Click the

name

of the email.

Click the

Recipients

tab.
In the left sidebar menu, navigate to an email status to export recipients from.
In the upper right, click the

List actions dropdown menu and select Export recipients list

.
Click Export to receive a CSV file of the email recipient event data in your inbox.
Basic export data
A basic export includes basic information for each recipient. You can see columns with TRUE or FALSE values to learn more about each recipient. If you sent an A/B email test, you can see which version your contacts received in the SubType column.
Advanced export data
Please note: advanced export data is available for Marketing Hub Starter, Basic (Legacy), Professional, and Enterprise accounts only.
An advanced export provides more details about each recipient, including responses for messages that were marked as processed or deferred. You can also see if any updates were made to your contacts' eligibility to receive email. Learn more about advanced export data in the developers documentation.