With dependent form fields, you can easily ask your contacts further qualifying questions based on their previous answers. For example, if your business only sells to clients in certain geographic locations, you can qualify form respondents by country and state/region.
Add dependent fields to a form
In your HubSpot account, navigate to Marketing > Lead Capture > Forms.
Click the

name

of a form or

create a new form.
In the form editor,

hover over a form field to add dependent fields to and click

the pencil icon

edit

.
In the left panel, click the Logic tab and navigate to the section Dependent fields. In the example below, dependent fields are being set for the Country field:

If [field] 1: this dropdown menu has the options: is equal to, is not equal to, contains, doesn't contain, starts with, ends with, is not empty. The options vary depending on your form

field type. In this example, only one country will meet the criteria, so the is equal to option is selected.
If [field] 2: enter or select the value(s) that the visitor must input to be shown the dependent field in this text field or dropdown menu. In this example, the specific country to be input is United States.
Then show: select the field to display if the visitor meets the criteria set above. In this example, if a visitor selects United States as their country, the State/Region field will appear on the form.

Click Add

.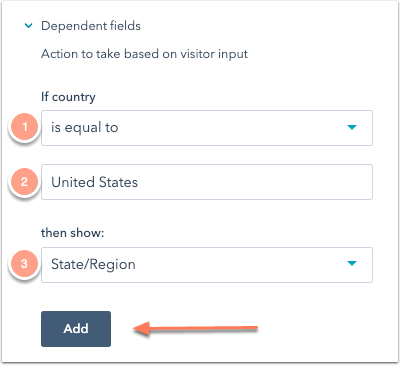 To build out more dependencies for this specific field, click + Add another rule in the Dependent fields option.
View your dependent fields
After setting up your dependent form fields, you'll see the dependent field(s) connected to the field it is dependent on with a dotted line. Click Open dependent fields (x) to view the specific dependencies.