Go to your Social Settings
In your HubSpot Marketing Basic, Professional, or Enterprise account, navigate to Social > Social Settings.
Click Publishing then navigate to the "Publish with custom short links" section
Select the
Publishing
tab. Scroll down to
Publish with custom short links
then click
Connect
to connect a Bitly account.
Authorize on Bitly
Sign in with your Bit.ly account or sign in with Facebook or Twitter.
Click the Allow button to let HubSpot connect with your Bitly account.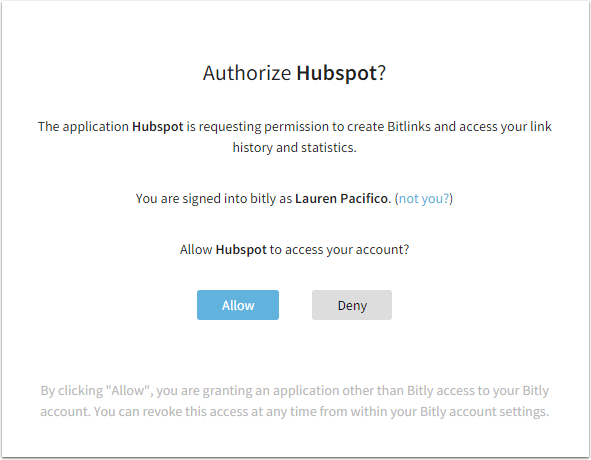 Verify that you've connected your account
You'll be redirected back to the social settings page once you complete authorization on Bit.ly's site. You will then see the Bit.ly account you've connected listed on the page and the custom short domain that will be used for shortened links. Additionally, all of the links shortened by the social media tools will also be stored in your Bit.ly account so that you can access them from there as well.