With HubSpot's App Marketplace, you can integrate tools you need for your business with your HubSpot account. All apps in the marketplace are reviewed and certified by HubSpot's team of developers.
Please note: only Super Admins and users with App Marketplace access in admin permissions can connect apps to HubSpot. To request access, click Request to connect in the top right of the app page in the HubSpot Marketplace.
Find an app
To find an app to connect to your HubSpot account:
In your HubSpot account, click the Marketplace icon

marketplace

in the main navigation bar. Under Manage, select Connected apps.
Click Visit App Marketplace.

Search or browse for an app:

Use the search bar to search by business need or app name.

In the left sidebar menu, browse curated collections or filter your results by category, pricing, features, and more. To see only the apps that work with your current HubSpot subscription, u

nder Compatible HubSpot Plans, select the Compatible with my plan checkbox.

Click the app to see more information.
Please note: HubSpot has open APIs, meaning providers can build and support their own apps for Hubspot outside of the app marketplace. In order to appear in the app marketplace, app listings must be submitted to and approved by HubSpot.
Review app details
On the app listing page, you can see information about the app's features and pricing, find support resources, and learn how data is synced between the app and HubSpot.
Overview
On the left, you'll find screenshots of the app's features, along with a description of its key benefits and ways in which it syncs data with HubSpot.
On the right, you can review the details of the app: the provider name, total install numbers, category, and included features. Under Requirements

, you can see whether or not the app is compatible with your HubSpot subscription, and see if there are any app-side subscription requirements.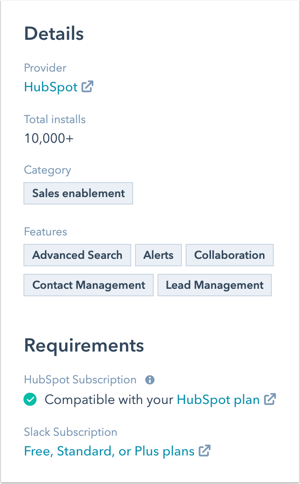 Below, you'll find links to support documentation and setup guides, along with the provider's contact information.

The Data Privacy section indicates whether or not HubSpot's privacy policy applies to this app and links to relevant provider documentation when applicable.
Please note: apps provided by HubSpot App Partners are supported by the provider. This section will include links to the partner's support resources.
Pricing
In the Pricing section, you can see available plan options for the app.
If the app offers monthly and yearly billing, click to toggle the Monthly/Yearly switch to see the monthly price for each billing cycle.
To see expanded pricing information in a new tab, click See all pricing options.
Data & Permissions
Use the Data & Permissions section to learn more about how data is synced with this app and what permissions you'll need to connect it.
Under Shared Data, you'll see how data for each HubSpot object will sync between your HubSpot account and the app once connected:

A unidirectional arrow indicates that data will only be synced one way, either to or from HubSpot.

A bidirectional arrow indicates that data will be synced back and forth between HubSpot and the app.

Under Permissions, see if the app will require approval to access your HubSpot account and see a list of any HubSpot functionality requirements.
Connect app
When you're ready to connect the app, click Connect app in the top right corner. You'll be guided to the provider's connection flow, including logging in to your account in the app and approving any necessary permissions.
Please note: if the Connect app button is grayed out, you may already have the app connected, or you do not have the required HubSpot subscription or permissions to connect the app. To see connected apps, return to the app marketplace and click Manage apps at the top right.
For help connecting the app, click View setup guide.