Create workflows
Last updated: June 1, 2022
Create a workflow to automate your business processes and make your team more efficient. Set enrollment criteria to automatically enroll records and take action on your contacts, companies, deals, quotes, and tickets. You can also take action on associated records, such as updating an enrolled contact's associated company.
After creating your workflow, it will appear in the Created in workflows tab in the workflows dashboard. Workflows created from other tools such as forms, emails, tickets, or deals will display in the Created in other tools tab. Learn more about organizing your workflows.
To get started creating a workflow:
In your HubSpot account, navigate to Automation > Workflows.
To create a new workflow, in

the upper right

, click Create workflow.
To edit or clone existing workflows, hover over the workflow and click Clone or Edit.
Select workflow object and type
On the workflow setup page, select the Start from scratch or Templates tab to set up the workflow from scratch or get started with templated enrollment criteria and actions based on frequent use cases. Depending on which setup flow you choose, you will also be prompted to select an object and workflow type.
Start from scratch
If you've chosen to Start from scratch:
In the left panel, select [object]-based to select your workflow object. This determines what type of records can be enrolled in the workflow. When creating a workflow from scratch, you can select from the following objects:
Contacts
Companies
Deals
Quotes (Sales Hub Professional or Enterprise)
Tickets (Service Hub Professional or Enterprise)
Custom objects (Enterprise only)
Conversations
Feedback submissions (Service Hub Professional or Enterprise)

Subscriptions

Payments
Learn more about types of workflows in the video below:


In the right panel, under Choose type, select your workflow type:

Blank workflow: start with a blank workflow and add your own enrollment triggers, actions, and delays.
Scheduled workflow (Operations Hub Professional and Enterprise only): set a schedule for your workflow to

recur at regular, pre-determined intervals such as daily, weekly, monthly, or annually. After,

add your own enrollment triggers, actions, and delays. Learn more about creating scheduled workflows.
Click the

edit

pencil icon to give your workflow a name, then click Next. You'll then be taken to the workflow editor.


Use a template
If you've chosen to use a template to set up your workflow:
In the left panel, search for or click the template you want to use.


In the workflow template setup screen, you'll be guided through a

step-by-step creation process:

On each page of the setup guide, set up the required fields, clicking Next in the bottom right to navigate to the next page.
If you would like to skip the step-by-step workflow template setup, in the bottom right, click Set up in workflow builder. In the workflow editor, the template will be displayed with placeholder actions.

At the last step of the setup guide, click Create in the bottom right to create the workflow. You'll be brought to the workflow editor.

Set enrollment triggers
Enrollment triggers are a set of criteria that automatically enroll records in the workflow. If you only want to enroll records manually, leave the enrollment trigger box blank. Learn more about manual enrollment.
To watch an overview of this process, check out the video below:


In the workflow editor, click Set up triggers. Learn more about setting enrollment triggers in workflows.
In the right panel, select a filter type for your enrollment trigger. Set up the trigger, then click Apply filter.


By default, records will only enroll in a workflow the

first

time they meet the enrollment triggers. To enable re-enrollment:

In the right panel, click the Re-enrollment tab.
Click to toggle the Re-enrollment switch on.
Select

the

triggers

that you want to use for re-enrollment.

Learn more about adding re-enrollment triggers to workflows.

Add more enrollment triggers if needed.
When you're done, click Save.
Add actions
Most workflow actions, such as Create task and Send email, can be saved without setting all of the details. This can help streamline workflow building by allowing you to add your actions first as placeholders, then set up the rest of the details later before turning the workflow on.
For example, you're setting up a workflow for an upcoming email marketing campaign. Even though you haven't finished creating the emails you'll be sending, you can add all the Send email actions you need, then add the emails once they've been finalized.
Placeholder actions must be filled out before you can turn on the workflow. Learn more about placeholder actions.
To add actions to a workflow:
Please note: the actions available to you depend on your subscription. Locked actions locked require an account upgrade to use.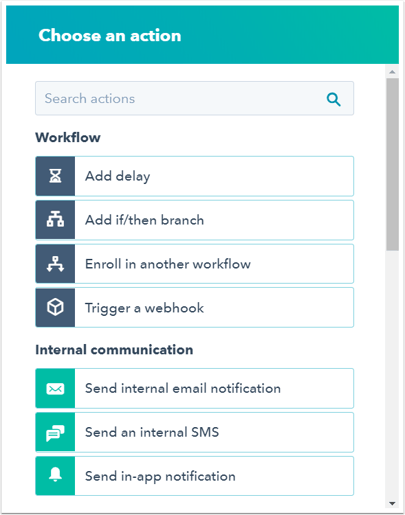 Set

up the details of the action,

then click

Save. Or, if you're adding the action as a placeholder, click Save without filling out the action details.
Click the plus icon + to add more workflow actions.
If you're creating a contact-based workflow to send marketing emails,

it's recommended to set a workflow goal to measure engagement with your content. Learn more about

using goals in contact-based workflows

.
After adding an action, you can clone or move it to streamline the workflow building process. And if you'd like to leave a note on a workflow action for you or your team's reference, learn how to add comments to workflow actions.
When building larger workflows, you can use the workflow minimap for a quicker view of your workflow architecture and faster navigation. To use the workflow minimap:
In the upper left of the workflow. timeline, click Show minimap.
With the minimap open, you can hover over workflow actions to view the action name, and click an area of the minimap to navigate there.
To close the minimap, click the

left

arrow icon in the top right of the minimap.
Manage settings
Click the Settings tab to manage the workflow's settings. On the General page, select days and times that you want actions to execute, enroll contacts from Salesforce, and associate campaigns with the workflow. On the Unenrollment and suppression page, set unenrollment and suppression criteria to automatically remove or exclude records from the workflow.
Learn more about managing your workflow settings.



Turn on your workflow
After setting up your workflow, turn it on to begin automating. If you've saved any placeholder actions, they must be completed before you can turn on the workflow.
To watch an overview of this process, check out the video below:


To review and turn on your workflow:
In the upper right corner, click Review.
Choose to enroll records that currently meet the enrollment triggers or only enroll records that meet the triggers in the future:

To only enroll records that meet the enrollment triggers after the workflow is turned on, select No, only enroll [objects] which meet the trigger criteria after turning the workflow on.
To enroll existing records that meet the enrollment triggers, select Yes, enroll existing [objects] which meet the trigger criteria as of now.



If you have a Marketing Hub Starter, Professional, or Enterprise account, in contact-based workflows you can view a static list of contacts that meet the criteria by clicking Use lists to see these contacts. The list will automatically be saved and can be accessed from your lists dashboard.


Review the rest of your workflow settings, including connections and unenrollment, then click Turn on.
In the dialog box, click Yes, turn on.
After you turn your workflow on, you can view the workflow history to monitor the records that are enrolled.
Thank you for your feedback, it means a lot to us.