To change your HubSpot user's email address:
Please note: you can only change the email address for your own user; it is not possible to change email addresses for other users in your account.
In your HubSpot account, click your account name in the top right corner, then click Profile & Preferences.
In the left sidebar menu, navigate to Security.
In the Email section, click Edit email address.

In the dialog box, enter your new Email address.
Click Save. Your email address will now be pending validation.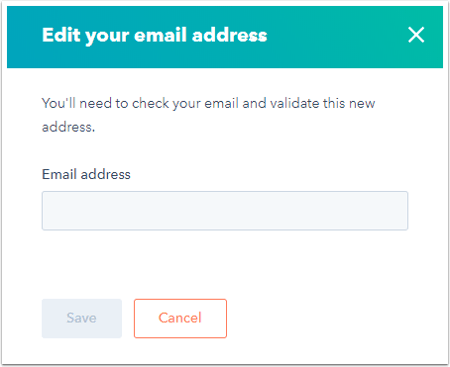 You'll receive an email in your new email address inbox. In the email, click Confirm your email address to validate your new email address.
If you click Confirm your email address and are asked to log in to HubSpot again, enter your

original

login credentials to access your account.
Please note: you cannot edit your email address to be the same as an existing HubSpot user. This includes users that do not have access to your HubSpot account, unless the user has been permanently deleted.