The best method of removing a page, email, or blog post is to archive it. This ensures that you will not lose any of your data or content when the page is removed. You can also archive files in your file manager.
To archive an email, website page or landing page, follow the instructions below:
In your HubSpot Marketing account, navigate to your email, blog, or page dashboard.
Hover over the email, page, or blog post you want to archive. Click the More dropdown menu, then select Archive.
In the dialogue box, click Archive to confirm.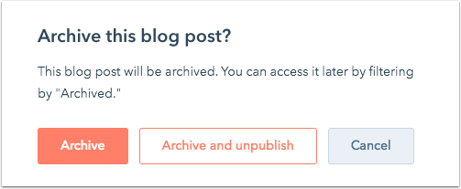 You can access your archived content by navigating to the Archived section in the left sidebar menu of your content dashboard.